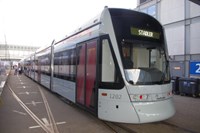 On December 21 2017, Keolis launched first phase of Aarhus' new tram network, the first in Denmark.
The network, once completed, will consist of 110km of double track, with 51 stations, and will operate with a fleet of 14 trams and 12 tram-trains.
It enhances the attractiveness and liveability of the city (European capital of culture in 2017), and provides a connection to the regional rail service.
This highlights Keolis' world leadership in tram operations, and reinforces its presence in Denmark and northern Europe.
On 21 December 2017 Keolis started operating Aarhus' new tram network, the first light rail project in Denmark, on the east coast of the country. In June 2015, Aarhus Letbane, the local transport authority awarded Keolis a contract to operate the network for a period of 6 years, with a potential extension. The contract, worth €50 million, is emblematic for Keolis as it strengthens its leadership in tram operations as well as its presence in northern Europe.
The initial network covers a 12km loop around the city and serves 12 stations. It will be extended to another 98km as part of two additional stages which will be integrated throughout 2018 to serve 51 stations outside the city. The 12km tram network will provide a connection to two regional rail lines. The fleet of 14 trams and 12 tram-trains, made by Stadler, will carry around 40,000 passengers per day. Once the full network is open, the 12 tram-trains will be able to run at speeds of up to 100km/h outside the city.
Keolis International CEO, Bernard Tabary, said: "We are happy to start operating the Aarhus light rail network after some weeks of intense collaboration with the Danish agency in charge of transport in Denmark. Over the past three years, we have worked closely with the Municipality of Aarhus in order to deliver a reliable, comfortable, environmentally-friendly and safe mode of transport to Aarhus residents and the surrounding community. This new tram line will certainly enhance the attractiveness and liveability of the city and encourage its residents to use more public transport. We are fully committed to working constructively with all stakeholders to make this project a success for both our client and passengers."
Keolis has been present in Denmark since 2007, with operations in more than 10 cities across the country. With its 1,500 employees, the Group operates a fleet of 500 buses in addition to the vehicles for the new Aarhus tram line.
This new network consolidates Keolis' multimodal expertise, and confirms its status as a global leader in tram operations. The Group operates 75 lines and 1,300 trams over more than 800km of track in France, the United Kingdom, Norway, Denmark, Portugal, Canada and Australia.
About Keolis
Keolis is a pioneer in developing public transport systems and works alongside public decision-makers who want to turn shared mobility systems into levers to enhance the appeal and vitality of their regions. A world leader in operating automated metro and tramway systems, Keolis is supported by a sustained and open innovative policy alongside all of its partners and subsidiaries – Kisio, LeCab, EFFIA, Keolis Santé, Cykleo – to bolster its core business and develop new innovative and bespoke shared mobility solutions, including trains, buses and coaches, trolleybuses, shared car solutions, river and sea shuttle services, bike share services, car sharing, fully electric driverless shuttles and urban cable cars. In France, Keolis is the second largest parking company through its subsidiary EFFIA, and the country's leading medical transport solution since the creation of Keolis Santé in July 2017. The Group is 70%-owned by SNCF and 30%-owned by the Caisse de Dépôt et Placement du Québec (Quebec Deposit and Investment Fund), and employs some 58,300 people in 16 countries. In 2016, it posted revenue of €5.1 billion. More than 3 billion passengers have now used one of Keolis' shared mobility services. * Keolis is well-established in France and also operates in Germany, Australia, Belgium, Canada, China, Denmark, the United Arab Emirates, United States, India, Luxembourg, Norway, the Netherlands, Portugal, the United Kingdom and Sweden.