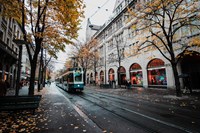 On 27th July 2019, Keolis, which operates the Twisto public transport system, launched the new tram system on behalf of Caen la Mer's urban community, in Normandy, in the north of France. Following 19 months of works, this new mode of transport will replace the previous rubber-tyred tram system. The tram network is made up of three lines totalling 16.2 km of track. It serves 36 stations with 26 trams and forms the backbone of the new Twisto transport system.
Alongside the launch of the tram, the entire bus network is undergoing a major overhaul with the introduction of a circular route running around the whole urban area and the extension of several existing bus routes. It supplements the new e-bikes and electric shuttle services rolled out in early 2018 for a more global and sustainable mobility offer.
Thanks to this bolstering of the urban area's transport facilities, Keolis is expecting an increase in ridership (+19.5%) and in revenue (+27%) across the whole network between now and the end of the contract in December 2023.
Keolis has been operating the Twisto network in Caen for several years now and the Group's contract was renewed on 1st January 2018 until the end of 2023. As a result, Keolis will continue to cater to the mobility needs of the 270,000 residents of Caen la Mer's urban community in 47 municipalities covering 362 km².
On 27th July, Keolis started operating Caen la Mer's new tram service, replacing the rubber-tyred tram system which were retired on 31st December 2017.
26 tramsets, each capable of carrying 210 passengers, will operate over the network which consists of three lines and 36 stations. They will run on dedicated tracks at 10-minute intervals between 5:45 am and 12:30 am, Monday to Saturday, and between 7:45 am and 12:30 am on Sundays and bank holidays.
Built by manufacturer Alstom, the new tram (Citadis X05) features six double doors and wide areas facilitating passenger movement inside the tram. The low floor tram features two areas reserved for wheelchairs, six seats for people with reduced mobility and noise amplifiers for the hard of hearing. The new tramsets also have USB ports offering additional services to passengers.
About Keolis

More than just an everyday transport operator, Keolis is one of the world leaders in shared mobility. As an expert in multimodality, the Group is a partner of public policymakers who want to make mobility an asset for the attractiveness and liveability of their community. Dedicated to passengers and attentive to their individual needs, we work every day to provide more enjoyable, more human ways of getting around.