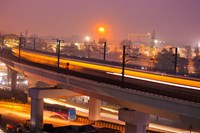 On 20 March 2019, an opening ceremony was held in the presence of Shri E.S.L. Narasimhan, the Governor of Telangana, Bernard Tabary, International CEO, Keolis Group, as well as all the representatives of Hyderabad Metro Rail (HMRL), L&T Metro Rail, and Keolis Hyderabad, to officially launch a new section of Hyderabad automated metro, adding 10 km of lines to the existing 46km network. Since it opened in November 2017, the Hyderabad metro has provided over 50 million passenger journeys. Once completed, the network will be 72 km long and will carry 1.5 million passengers each day.
From Ameerpet to Hitec City, eight new stations spread over 10km connect the west of the city to the east of Hyderabad. Eagerly awaited by passengers, this new section serves a major business district (Hitec City) where numerous IT and international pharmaceutical companies are located. As well as the gains in competitiveness that this mode of transport represents for the megalopolis, a significant reduction in road traffic is expected in one part of the city, regularly overloaded at peak hours, in the months following entry into service. The opening of this section should result in a doubling of passenger traffic throughout the network.
The new section is a technical achievement from an operational point of view. Apart from the numerous bends present along the route, the metros circulate on the new line according to the 'twin single-line' model, with each track capable of being used in either direction. This operational mode, made possible by the CBTC (Communication-Based Train Control) technology on which the Hyderabad metro system is based, will be used until the construction of the turnaround track beyond Hitec City station.
About Keolis

More than just an everyday transport operator, Keolis is one of the world leaders in shared mobility. As an expert in multimodality, the Group is a partner of public policymakers who want to make mobility an asset for the attractiveness and liveability of their community. Dedicated to passengers and attentive to their individual needs, we work every day to provide more enjoyable, more human ways of getting around.