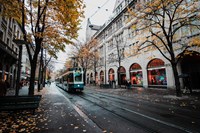 On 29 November 2018, Keolis, through its subsidiary Keolis Odense Letbane, was named preferred operator for both the operation and the maintenance of the new light rail network in the city of Odense.
Odense is the third largest city of Denmark and has a population of 200,000. The 15-year contract will generate a cumulative revenue of approximately 230 million euros. This new network is 14.5 km long and includes 26 stations and is expected to open for operation by the end of 2020. Odense Letbane, the public transport authority, is expected to confirm their decision in the following days with the signing of the contract to follow before Christmas.
The new Odense light rail network will link Tarup located in the north of the city to Hjallese in the south with a 42 minutes journey. It will run through the city centre and serve the central train station, the international homeware retailer Ikea and Odense university. The 16 Stadler trams to be used, each with a capacity for 210 people, are expected to carry 12 million passengers a year. It is also hoped that the new light rail service will slow the growth of car use in Odense and the surrounding region, in support of the local sustainability agenda.
Keolis has been in Denmark since 2007 and operates around 500 buses in more than 10 cities and Aarhus light rail, the first network of the country since December 2017. Keolis Denmark counts over 1,500 employees.
Keolis is responsible for 24 tram networks (975,5km of track) around the world:
13 networks in France (Angers, Bordeaux, Besançon, Brest, Caen, Dijon, Le Mans, Lille, Lyon, Orléans, Paris region, Strasbourg et Tours)
6 international networks: Aarhus (Denmark), Bergen (Norway), Gold Coast and Melbourne (Australia), Nottingham and Manchester (UK)
5 networks soon to be launched: Newcastle (Australia), Lusail (Qatar), Waterloo (Canada), Shanghai (China) and now in Odense (Denmark).
"We are pleased to be involved in the opening of Denmark's second light rail network, which will make the city of Odense an even more attractive place to live and work. Our global expertise in developing networks from 'greenfield' sites proved relevant and important in this bid. We now look forward to our collaboration with Odense Letbane and to bringing our international experience and expertise in support of this exciting project over the coming years," said Bernard Tabary, International CEO Keolis.
About Keolis

More than just an everyday transport operator, Keolis is one of the world leaders in shared mobility. As an expert in multimodality, the Group is a partner of public policymakers who want to make mobility an asset for the attractiveness and liveability of their community. Dedicated to passengers and attentive to their individual needs, we work every day to provide more enjoyable, more human ways of getting around.