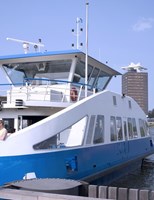 The Finistère Departmental Council has renewed its trust in the Keolis Group for the operation of the Penn Ar Bed maritime services to the islands of Molène, Ouessant and Sein, located off the Finistère coast in North-Western France.
The new 4-year contract will start on 1st January 2017. It will generate cumulative revenue of nearly 37 million euros.
This renewal strengthens Keolis' foothold in Brittany and confirms the Group's ability to operate all transport modes - including maritime transport - in a variety of regions.
Keolis Maritime Brest has been operating the Penn Ar Bed service in Brittany since 1992, and will continue to serve the islands of Molène, Ouessant and Sein until 2020. This contract has helped the Group develop its expertise in maritime transport, in terms of operations, as well as ship maintenance.
The company operates a fleet of six ships that make 1,520 rotations per annum, transporting 165,000 passengers every year.
Keolis Maritime Brest manages six ferry terminals that function all year round: Brest, Le Conquet and Audierne on the mainland, and the islands of Molène, Ouessant and Sein.
A summer service from the port of Camaret completes the offer during the tourist season.
Keolis provides regular services between the mainland and the three islands throughout the year: 84 employees - including 51 sailors - maintain the service in winter, with staff numbers rising to 108 employees - including 64 sailors – during the summer period.
Several service improvements will be implemented from day one of this new Public Service Delegation contract, including:
virtualisation of boarding passes, simplifying the passenger's journey
possibility to purchase tickets using automatic terminals in the Audierne and Le Conquet ferry terminals
maintenance of the cold chain for freight transport Paris, 16th November 2016
replacement of equipment, including the purchase of a new, faster vessel, better adapted to the company's needs.
Keolis, a key multimodal player
Keolis' core business is to offer solutions tailored to the specific needs of each region. The Group covers all transport modes and operates trains, metros, tramways, buses, coaches, trolleybuses, bicycles, private hire taxis and river and sea shuttles in France and across the globe.
Keolis carries 1,375,000 passengers by boat every year on its 100% electric river shuttles in Bordeaux and sea shuttles in the city of Lorient and off the Finistère coast.
The general public is often unaware that passenger transport by boat constitutes a public transport system in its own right.
In Lorient, for example, more than 800,000 passengers travel on Keolis maritime shuttles every year. And 243,000 people use Bordeaux's river shuttles every year, including tourists and residents.
Transport by boat therefore represents a real area for innovation for the Group. Keolis has operated a zero-emission, 100% electrically propelled boat in Lorient since2013, with a capacity of up to 150 passengers: a world first in passenger transport.
This new contract confirms Keolis' multimodal expertise, as well as its strong foothold within the Breton region. The Group's commitment to the region will be further reinforced on Saturday 19th November 2016, when Keolis launches France's first urban cable car in the city of Brest.
About Keolis
The Keolis Group is one of the world's leading public transport operators. The company is majority owned (70%) by the French state railway SNCF, the other shareholder being Caisse de dépôt et placement du Québec (CDPQ). Present in 16 countries* with 56,000 employees, Keolis develops tailored mobility solutions (automatic metros, tramways, trains, buses, coaches, ferries, selfservice bicycles) adapted to local environments. The Group offers solutions and services via its subsidiary, Kisio. It is also the second leading car park operator in France thanks to its subsidiary EFFIA.
In 2015, Keolis transported 3 billion passengers and generated 5 billion euros in revenue.
*Originally established in France, Keolis has expanded its operations to Australia, Belgium, Canada, China, Denmark, Germany, India, the Middle East, Luxembourg, Netherlands, Norway, Portugal, Sweden, UK and USA.