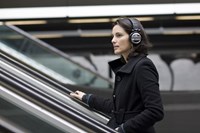 A Keolis survey of 3,000 French citizens, conducted in collaboration with Netexplo, provides new insight into digital mobility expectations across the country.
The comprehensive overview of different digital uses reveals three fundamental expectations: information connected across transport hubs, security and guidance.
Lessons learned from the study are being used to enhance the Group's existing marketing and digital strategy.
As part of the Digital Mobility Observatory created in 2015 by Keolis and Netexplo, 3,000 French citizens were interviewed to provide an overview of digital usage in their daily mobility.
The study proposes new keys to interpreting digital mobility behaviours.
The study is the first of its kind in France, and reveals three types of social profiling:
31% of individuals are identified as Digi'mobiles: these are people 'addicted' to using their smartphone in their daily mobility and can be sub-divided into Autonomous (21%) and Hyperactive (10%).
39% of individuals are identified as Connected: still only maintaining basic web knowledge, they need help to become the Digi'mobiles of tomorrow. Of these 14% are Followers looking for modernity, and 25% are Web-sitters, searching for even simplicity.
30% of individuals are identified as Offlines: these people almost never use digital services; their primary requirements are social connection and mutual support, particularly with digital. They are either Fragile (10%) or Isolated (20%).
These results highlight important differences in digital mobility uses and needs, as well as common expectations for all profiles.
Diverse uses and needs…
To accommodate the vast range of profiles, it is essential to propose digital solutions for all groups, and to take into account digital access, as well as, digital acceleration. Innovation must continue in the field of smartphone applications, but must also provide easier access for all to digital solutions, for example using connected transport hubs; a 'communicative environment' accessible to as many people as possible.
…shared expectations
The majority of people surveyed perceive digital as a vehicle for social cohesion, mutual aid, and community. Digital unites rather than divides. These findings challenge the principle of a digital divide as perceived in France.
All six profiles have three common expectations in terms of digital services and assistance: connected transport hubs, safety, and clear guidance for journeys.
Thanks to its partnership with Netexplo, Keolis is consolidating and enhancing its marketing strategy, particularly in the field of digital, and incorporating these new priorities into its approach towards innovation.
International deployment of the Digital Mobility Observatory
This unique, long-term approach is designed for international implementation. Keolis and Netexplo are launching a new phase of their partnership. A global observatory will provide an overview of digital mobility in 13 Smart Cities across five continents: Abidjan, Boston, Dubai, Hong Kong, Hyderabad, London, Lyon, Melbourne, Montreal, Sao Paulo, Shanghai, Stockholm, and Tokyo.
The results from the global observatory will be available in the first half of 2017.
About Keolis Group
The Keolis Group is one of the world's leading public transport operators. The company is majority owned (70%) by the French state railway SNCF, the other shareholder being Caisse de dépôt et placement du Québec (CDPQ). Present in 16 countries* with 56,000 employees, Keolis develops tailored mobility solutions (automatic metros, tramways, trains, buses, coaches, ferries, self-service bicycles) adapted to local environments. The Group offers solutions and services via its subsidiary, Kisio. It is also the second leading car park operator in France thanks to its subsidiary EFFIA. In 2015, Keolis transported 3 billion passengers and generated 5 billion euros in revenue.
*Originally established in France, Keolis has expanded its operations to Australia, Belgium, Canada, China, Denmark, Germany, India, Middle East, Luxembourg, Netherlands, Norway, Portugal, Sweden, UK and USA.