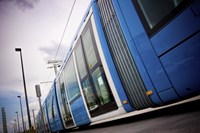 On Friday 7 October following negotiations that lasted almost 24 months, the elected officials sitting on the governing board of the SYTRAL union of local government bodies in Lyon unanimously voted to renew the contract of Keolis, the incumbent operator of the TCL public transport network in the region. The new public service concession contract – valid for six years and starting on 1 January 2017 – will generate revenue of €2.2 billion.
The TCL network covers 73 municipalities and manages close to 1.7 million journeys daily. It is France's largest public transport network outside the Paris region and has the national record for the highest number of journeys per inhabitant, which stands at more than 350 trips per year.
The contract is Keolis' largest both in terms of revenues and passenger journeys. It acts as a showcase of the company's multimodal expertise and operational efficiency. In the greater Lyon area, Keolis operates metro, streetcar, funicular, trolleybus, bus and autonomous electric shuttle lines and consistently achieves high levels of customer satisfaction.
Annie Guillemot, SYTRAL's Chairwoman, and Jean-Pierre Farandou, Keolis' Chairman, will sign the new contract in the coming weeks.
Under the new agreement, passengers will enjoy higher-performance, with improvements in sustainable and accessible mobility. Operational costs will be kept under control and the city's natural and cultural heritage will be preserved.
Keolis' bid provides solutions for the network's optimisation and to meet the requirements and expectations of SYTRAL's ambitious policy for increasing passenger numbers. This will be achieved in partnership by delivering increased customer satisfaction, operational excellence, dealing more efficiently with fare evasion and support for future projects of the organizing authority.
In line with SYTRAL's expectations, Keolis will seek to enhance the network's overall economic performance throughout the duration of the contract.
Commenting on the renewal, Keolis Chairman Jean-Pierre Farandou said: "I'm delighted by the trust SYTRAL's governing committee has unanimously bestowed on us. It confirms Keolis' standing as transport experts capable of operating a high performance urban network, combining all modes of transport, and of innovating – as demonstrated by the recent launch at Confluence of the Navly driverless electric shuttles."
The new contract's key figures
Cumulated revenues (six years): €2.2 billion
Funds allocated (over six years): €1.4 billion
Value of assets under management: over €4 billion
The TCL network – key figures
56.5 million km travelled per year
500 million trips per year
Ridership up 18% in four years
4 metro lines
5 streetcar lines
2 funicular lines
130 bus and trolleybus lines
400,000 subscribers
2015 revenues: €370 million
4,400 employees
About Keolis
Keolis is a worldwide public transport operator. The Group develops tailor-made mobility solutions to suit individual local requirements. Keolis, a market leader in France, is present in 15 countries throughout the world. The Group generated revenue of 5.6 billion euros in 2014 and employs 60,000 people.