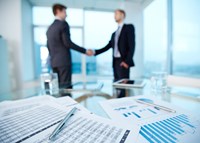 On Tuesday 31 January 2017, following a year of negotiations, STIF, the public transport authority for Greater Paris, and Keolis, signed twenty operation contracts for bus networks in the region, aimed at improving passenger services.
Each of these new four-year contracts cover the period from 2017 to 2020. Five additional contracts are currently being negotiated, and are expected to be signed shortly.
The contracts will generate a combined revenue of approximately €750 million, enabling Keolis to strengthen its position as a benchmark for transport in the Greater Paris region.
These new contracts establish a long-term framework that will enable the implementation of a bus network in Greater Paris, as designed by STIF. They are intended to accelerate improvements to the bus networks in the coming months.
These contracts will allow Keolis to run, on behalf of STIF, a number of ambitious trials in Greater Paris in the areas of alternative energies and new forms of mobility.
As part of their partnership, STIF and Keolis plan to raise standards in terms of service quality and fare evasion.
Keolis' proposals involve ambitious, innovative solutions that will provide STIF with the best service at the lowest cost.
At the time of signing the contracts, Keolis Executive Chairman Jean-Pierre Farandou said: "I'm delighted by the trust the transport union for Greater Paris has placed in us. The signing of these contracts will enable us to imagine together mobility solutions needed for the Grand Paris metro project and the Greater Paris region. Keolis will continue to leverage its expertise in operations and customer experience, as well as its innovation strategy for new forms of mobility and digital technology."
Keolis in the Greater Paris region
Key stats
4,100 employees
2,100 vehicles
25 subsidiaries
Paris, 31 January 2016
Overview of activities
Regular lines: Versailles and Vélizy (Phébus), Seine Saint-Denis and Val d'Oise (Keolis-CIF), Essonne (Draveil, Vigneux, Evry, Corbeil, Athis-Mons, Monthléry, Etampes).
Specialised public services: Fileo (Europe's leading on-demand public transport service), PAM75, PAM94, bus stations (Roissypôle, La Défense, etc.), school bus services, regional night bus Noctilien.
Private services: Le Bus Direct – Paris Aéroport (formerly Cars Air France), hotel (CDG) and airport (CDG, Orly) shuttles, company shuttles, SNCF replacement buses (planned and unplanned), tourism / incoming.
About Keolis
The Keolis Group is one of the world's leading public transport operators. The company is majority owned (70%) by the French state railway SNCF, the other shareholder being Caisse de dépôt et placement du Québec (CDPQ). Present in 16 countries* with 56,000 employees, Keolis develops tailored mobility solutions (automatic metros, tramways, trains, buses, coaches, ferries, self-service bicycles) adapted to local environments. The Group offers solutions and services via its subsidiary, Kisio. It is also the second leading car park operator in France thanks to its subsidiary EFFIA.
In 2015, Keolis transported 3 billion passengers and generated €5 billion in revenue.
*Originally established in France, Keolis has expanded its operations to Australia, Belgium, Canada, China, Denmark, Germany, India, the Middle East, Luxembourg, the Netherlands, Norway, Portugal, Sweden, the UK and the USA.