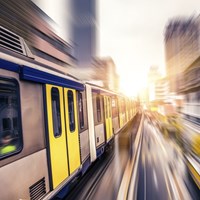 A new operator will run Greater Manchester's iconic Metrolink network – now the largest of its kind in the UK – from summer.
KeolisAmey, a joint venture partnership of UK public transport operator, Keolis, and infrastructure asset management specialist, Amey, will take over the reins when contracts with RATP Dev and MPT end in July 2017.
Their appointment follows a competitive process led by Transport for Greater Manchester (TfGM) involving three other shortlisted bidders, and has been ratified by Greater Manchester's Combined Authority leaders.
The new contract, signed this week, will start in July and run for up to 10 years. It comes at an exciting time: 2017 marks Metrolink's silver jubilee and will see the completion of the Second City Crossing (2CC), a crucial piece in a transformational expansion that has already trebled the size of the original network, making it the largest of its kind in the country.
KeolisAmey will inherit a fleet of 120 modern trams that offer free Wi-Fi to passengers, and the Trafford Park Line extension – which is now under construction and expected to be operational by 2020/21.
KeolisAmey is a partnership between two international transport and infrastructure management specialists, with the experience and skills to operate Metrolink, create jobs, and support the growth of the local economy.
Across the globe, they work with public authorities to deliver innovative and pragmatic solutions that create better passenger experiences.
Together, the partnership successfully operates London's Docklands Light Railway (DLR), which caters for more than 117 million journeys a year and has a performance and dependability record that is among the best in mainland UK (approximately 99% of trains depart on schedule).
Keolis is also the operator of Nottingham's NET (Nottingham Express Transit) tram network, which has achieved the highest passenger satisfaction rating of all light rail networks in the country (98%), and runs the world's largest tramway, Yarra Trams in Melbourne, Australia.
Key features of the contract include:
The creation of more than 300 jobs including drivers, apprenticeships and traineeships, and a commitment to upskill, enhance training and qualifications for staff.
A major focus on improving operational reliability, and customer service and security with an increased staff presence on the network – particularly in the evening and at weekends.
A commitment to source a minimum of 40% of supplier contracts within 25 miles of Greater Manchester, and customer and community engagement, including 'Meet the Manager' and 'Tweet the Manager' sessions.
Tony Lloyd, Greater Manchester Mayor, said: "It is vital that our transport infrastructure connects and supports the new homes and jobs we need, helps the local economy to flourish and ensures residents can contribute to and benefit from our shared prosperity – and that is precisely what this new contract seeks to achieve.
"Greater Manchester's transport Leaders have judged KeolisAmey on their plans for Metrolink, which are focused on improving reliability, customer service, and creating more customer-facing roles, such as drivers and Customer Service Representatives.
"They have also committed to creating hundreds of new jobs, including graduate roles, apprenticeships and traineeships, and to source almost half of their supplier contracts locally.
"It is an ambitious approach, with a big focus on the customer and the community."
Councillor Andrew Fender, Chair of the TfGM Committee, said: "This appointment firmly reinforces our commitment to delivering the very best for passengers, and to realising the full potential and benefits of the unprecedented growth and investment we are overseeing in the network.
"After investing so heavily in transforming the infrastructure, this was always going to be a pivotal appointment without compromise. What we have here is a long-term, affordable commitment to providing a world-class service.
"In reaching this decision, I would like to pay tribute to the operational staff who have played a crucial part in managing a period of great change with the delivery of the network's expansion in recent years. The future looks very positive indeed."
Speaking on behalf of KeolisAmey, Alistair Gordon, chief executive of Keolis UK, said: "Metrolink has made a huge contribution to Greater Manchester's economic growth and its ongoing success will be a major factor in meeting the city region's ambitions. "KeolisAmey represents a proven combination of operational and technical excellence, which has succeeded in raising the already very high standards of punctuality and customer service on the DLR.
"We're confident that we can bring the same success to Metrolink, delivering the highest levels of performance and customer satisfaction for the benefit of Greater Manchester's travelling public."
About Transport for Greater Manchester
Transport for Greater Manchester (TfGM) is the transport delivery arm for Greater Manchester Combined Authority (GMCA) and its Transport for Greater Manchester Committee (TfGMC).
TfGM oversees transport and travel across Greater Manchester, home of the UK's largest regional economy outside London and a diverse population of over 2.7 million people.
About Keolis
Keolis has been in the UK for over 20 years and today it employs over 13,000 people. During this time Keolis has introduced more new trains to its franchises than any other operator.
Keolis is the world's largest tram operator and a market leader in the UK. It has been appointed to run three of the UK's seven light rail networks, including its busiest (Dockland Light Railway), largest (Manchester Metrolink) and the award-winning Nottingham Express Transit, where it is a member of the Tramlink consortium which has delivered a major expansion of the network adding two new lines totalling an extra 17.5km.
Through its joint ventures, Keolis currently handles 414 million UK rail passenger journeys every year – equivalent to one in three train journeys made in Great Britain. Its franchises include London Midland, GTR, and the nation's only high-speed rail network, HS1, in Kent.
Keolis is 70% owned by SNCF – France's state-owned railway operator – and 30% owned by Canadian pension fund, Caisse de depot et de placement du Québec. Globally, Keolis operates in 16 countries across four continents.
About Amey
Amey is a leading UK public and regulated services provider with over 21,000 employees.
Amey operates over 320 contracts, providing an unrivalled range of services including utilities, highways, waste management, rail, justice solutions, social housing and facilities management. Services are underpinned by our leading consulting and asset management capabilities, which allow us to offer stand-alone or integrated service solutions to a range of clients.
Amey is owned by Ferrovial. They are one of the world's leading infrastructure management and investment companies. Ferrovial employs approximately 65,000 employees and operates in over 25 countries. Ferrovial's activities focus on four business sectors construction, airports, toll roads and services. Amey is part of the Services division.