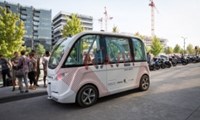 A public-private innovative collaboration
A world first in a flagship district of la Métropole de Lyon
NAVLY, a simple, safe service in operation from 5th September 2016
100% French cutting-edge technology
A public-private innovative collaboration
NAVYA, specialists in developing innovative mobility solutions and Keolis, a world leader in public passenger transport, are joining forces to offer the first 100% electric, autonomous and driverless public transport service called NAVLY.
This service of driverless autonomous shuttles intends to meet the challenges set by urban mobility and deliver on future demands. NAVLY will be an addition to the traditional modes of transport already offered (bus, tram and underground) and will complement new ways of getting around such as the Velo'V (bicycle sharing system) and car-sharing services, offering an efficient, innovative and intelligent alternative.
Created with the support of la Métropole de Lyon and Sytral (responsible for all transport solutions in the Lyon Metropolitan area), NAVLY collectively responds to the pressing new urban challenges faced in our cities of the future. This public/private collaboration aims to promote the creation of brand new services for passengers and enable innovative businesses to emerge, with a focus on sustainable development, mobility, energy saving, the environment and quality of life. This operation is endorsed by the French Agency for Environment and Energy management (ADEME).
These players have partnered and taken a bold gamble to make their city "more intelligent" for the well-being of its residents.
A world first in a flagship district of la Métropole de Lyon
La Métropole de Lyon has endorsed the NAVLY project since the beginning and has chosen the Confluence district to conduct the trial. This symbolic location is recognised as an "eco-district" by the French government, a "sustainable district" by the WWF and has also been awarded the European Concerto label for its energy efficient buildings.
The new NAVLY service, which is incorporated into the overall public transport network managed by SYTRAL, completes the package and offers an innovative last mile transportation solution. The NAVLY service is French Ministry of Ecology, Sustainable Development and Energy approved and complies with the public safety criteria allowing for autonomous shuttles to operate on the open road.
It is the very first time in the world that this form of transport system is to be implemented. This mode of urban transport is part of a long-term trial and its aim is to become an enduring long-lasting service for the city.
NAVLY, a simple, safe service in operation from 5th September onwards
Two electric, driverless and completely autonomous shuttles will begin operating from 5th September onwards, travelling alternately on the same 1350m circuit located adjacent to the Saône river. Pictograms on the floor will mark out the route. They will make five stops along the way, designated by fixed information posts located between the shopping centre and the far southern point of the Confluence district: Charlemagne, Passerelle, Les Salins, La Sucrière and Magellan.
Free of charge for all users, the shuttles take up to 15 people, with room for 11 seated. A NAVLY operator will be on board at all times to ensure the safety of passengers and to answer any questions.
The shuttle service will operate on Monday to Friday from 7.30am to 7pm with increased frequency (10 minute intervals) at peak times.
The autonomous shuttles will also be available for public use during the weekend of 3rd and 4th September.
100% French cutting-edge technology
Designed and manufactured by NAVYA, the NAVYA ARMA shuttles are the product of ten years' expertise in the field and the result of work carried out by fifty or so multi-skilled employees. There is no steering wheel and no pedals, they run on a battery, are 100% electric and boast an effective navigation and sensor system incorporating the simultaneous use of several types of the very latest technology including Lidars, stereovision cameras, RTK (real-time kinematic) GPS, IMU and odometry.
The NAVYA ARMA can reach speeds of 45 km/h but during the trial it will be limited to 20km/h.
The shuttle has been designed with aesthetics and the comfort of its passengers in mind, both internally and externally.
From conception (NAVYA) to management (KEOLIS), including its development and assembly, NAVLY is a 100% French product and service.
About NAVLY
Navly is a company founded by NAVYA and Keolis whose aim is to manage a public transport service operated by autonomous vehicles. NAVLY is headed by Pascal Jacquesson, Managing Director of Keolis Lyon.
About Keolis
The Keolis Group, a world leader in public passenger transport, is 70% owned by the SNCF and 30% by the Quebec Deposit and Investment Fund (CDPQ). Armed with 56 000 employees spread out over 16 countries*, Keolis develops tailor made mobility solutions adapted to suit every local issue including automated underground trains, trams, trains, buses, coaches, river and maritime shuttles and self-service bicycles. The Group provides mobility solutions and services via its subsidiary, Kisio. It is also the n°2 in car parks in France thanks to another of its subsidiaries, EFFIA.
In 2015, Keolis transported 3 billion passengers and reported a turnover of 5 billion euros.
*Keolis has a significant presence in France and also operates across 16 other countries which include Germany, Australia, Belgium, Canada, China, Denmark, the UAE, the USA, India, Luxemburg, Norway, the Netherlands, Portugal, the United Kingdom and Sweden.
About NAVYA
NAVYA is a French company specialising in developing innovative, smart and sustainable solutions. NAVYA develops driverless, automated electric vehicles that are independent of all infrastructure. These vehicles are a smart mode of transport for the transportation of both people and goods. The vehicle is equipped with a multitude of sensors and an embedded system that enables it to interact with its surroundings. It is also intended to provide efficient mobility solutions in terms of space and energy and has been built on sustainable intermodality and multimodality. January 2016 saw NAVYA, accompanied by the Robolution Capital investment fund, secure 4.1 million euros in funding from Cap Decisif Management with the FRCI fund (Fonds Régional de Co-investissement de la Région Ile de France), investment holding company GRAVITATION, and a group of Business Angels and company employees. This increase in capital is aimed to help structure the company's development, notably in the international market.
NAVYA benefits from major advances in technology in the autonomous, electric vehicle sector thanks to its experience in the field and a highly qualified R&D team. Christophe Sapet, its CEO, is supported by a team of 50 people divided up between Lyon and Paris.
About SYTRAL
SYTRAL is the exclusive transport authority for Lyon and the Rhône County. SYTRAL coordinates the TCL (Lyon public transport) network, the largest multimodal network (outside of Paris) in terms of its offer and use - 1.7million trips/day. SYTRAL also organizes the Libellule urban transport network in Villefranche-sur-Saône, the Rhône area intercity coach network, the Optibus service for people with reduced mobility and the Rhônexpress tram service linking Lyon and Saint-Exupéry Airport.
SYTRAL is a powerful lever of economic, social and sustainable development in the Lyon urban area and has invested more than a billion euros in its 2015-2020 medium-term plan. This will enable important projects to be carried out and provide for the modernisation of the infrastructure and equipment already in place to offer suitable transport solutions with optimum comfort.
About Grand Lyon – La Métropole
La Métropole de Lyon is a territorial collectivity created on 1st January 2015. It unites 59 municipalities and 1.3 million inhabitants. It works to promote innovation and reinforce economic vitality on a daily basis, in order to develop a more united and balanced territory thus improving the quality of life for those who live there.