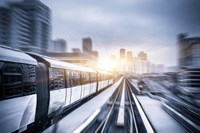 The Land Transport Authority (LTA) has appointed AECOM Singapore Pte Ltd and its team of specialist consultants to conduct the Advanced Engineering Study (AES) for the complete design of the High Speed Rail (HSR) infrastructure within Singapore. This includes providing architectural, civil, electrical, mechanical and other design services required for the Jurong East terminus, tunnels, and the bridge across the Straits of Johor.
AECOM and its team of consultants were selected through a highly competitive tender process. They bring extensive experience in HSR projects internationally, including in the planning and design of the Beijing South HSR Station in China, the High Speed 2 railway in the United Kingdom, and the West Kowloon Terminus for the Express Rail Link in Hong Kong.
AECOM Singapore has a strong track record in Singapore as well, having worked with LTA to design the Circle Line, Downtown Line, Thomson-East Coast Line, and the Tuas West Extension. AECOM Singapore is also currently carrying out an engineering consultancy study for the Rapid Transit System Link between Singapore and Johor Bahru.
About the Kuala Lumpur-Singapore High Speed Rail ('HSR')
The Kuala Lumpur-Singapore HSR is a strategic project between the Governments of Malaysia and Singapore that aims to facilitate seamless travel between the two capital cities, enhance business linkages, and connect the peoples of both countries closer together. The 350-km line will have eight stations, including Singapore and Kuala Lumpur, cutting travel time between Singapore and Kuala Lumpur to 90 minutes.
The HSR is expected to be completed by 31 December 2026. The Malaysia and Singapore governments have appointed MyHSR Corporation Sdn Bhd and the Land Transport Authority (Singapore) respectively to implement the project.
The Signapore Land Transport Authority
The Land Transport Authority (LTA) is responsible for planning, operating, and maintaining Singapore's land transport infrastructure and systems.
Our aim is to make public transport and other mobility forms come alive so travellers of all ages will look forward to their daily journeys. We want to make daily travel a way of life that is healthier, greener and more sustainable.