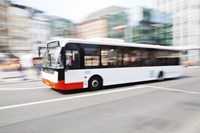 Imagine a future where our landscape is not dominated by roads, carparks and private cars, but where new forms of shared mobility complementing our public transport system will enable us to get around comfortably and conveniently. A robust and comprehensive rail network will bring us to our destinations, quickly and efficiently. Self-driving shuttles or pods will bring us in air-conditioned comfort from our doorstep to the train station, enhancing our first- and last-mile commute. And self-driving buses will arrive at bus stops at precise timings every morning, allowing us to plan our journeys more effectively. During off-peak hours, these buses will be deployed dynamically based on commuter demand and the fastest possible route, thus reducing the number of vehicles needed to ply the town and maximising the number of commuters on board each vehicle.
To realise this vision of smart urban mobility, the Land Transport Authority (LTA) signed agreements with the Nanyang Technological University (NTU Singapore) today to collaborate on a series of transport research projects. The signing of the agreements was witnessed by Senior Minister of State for Transport Mr Ng Chee Meng at the opening ceremony of the Singapore International Transport Congress and Exhibition (SITCE) 2016 on 19 October 2016.
Under the agreements, the partners will conduct joint research to enhance existing rail networks through real-time condition monitoring and also conduct trials for two fully-autonomous 12-metre buses, the first-of-its-kind in Singapore. These projects will be conducted under the ambit of the LTA-NTU Transport Research Centre (TRC), which was set up in November 2015 to conduct research and technical trials for innovative technologies in the transport industry.
Self-driving bus trial at NTU and CleanTech Park
As part of LTA's Request for Information (RFI) on autonomous mobility concepts issued in June 2015, LTA will partner the Energy Research Institute @ NTU (ERI@N) to develop autonomous bus technologies, which include conducting a self-driving bus trial for fixed and scheduled services for intra- and inter-town travel.
Under this collaboration, ERI@N will test and develop their self-driving vehicle technology with two electric hybrid buses. As one of the first research institutions to trial a self-driving electric shuttle within its campus and CleanTech Park since 2013, NTU has built up strong research capabilities in the development of electric and autonomous vehicle technologies. It is also leading key research testbeds and facilities such as the Centre of Excellence for Testing & Research of AVs – NTU (CETRAN), which was established in August 2016, and the NTU-NXP Smart Mobility Testbed.
ERI@N aims to outfit existing buses with a suite of intelligent sensors and develop an autonomous system that can effectively navigate Singapore's local road traffic and climate conditions, enabling the self-driving buses to operate safely and efficiently.
The roads between NTU and CleanTech Park, which is located within Jurong Innovation District, have been earmarked as potential test routes for the self-driving bus trial. It is envisaged that the trial could be extended in future to ferry commuters from NTU and Cleantech Park to Pioneer MRT station. The self-driving buses will feature opportunistic charging technology that will enable them to be recharged when they stop at a bus depot or bus stops. Please refer to Annex A for an illustration of the self-driving bus trial.
Professor Lam Khin Yong, NTU Chief of Staff and Vice President (Research) said: "NTU's deep expertise in sustainability technologies, engineering and industry collaboration has contributed towards developing new solutions for public transportation, such as first-and-last-mile autonomous shuttles and buses. Current efforts worldwide have been focused on cars so this autonomous bus trial is the first-of-its-kind in Singapore that will aim to improve road safety, reduce vehicle congestion, alleviate pollution and address manpower challenges."
This latest collaboration between LTA and ERI@N follows the partnerships inked by LTA with Delphi and nuTonomy respectively in August 2016 to conduct autonomous mobility-on-demand trials in the one-north testbed. LTA will continue to seek collaborations with other potential industry partners to conduct autonomous mobility-on-demand and self-driving bus trials.
Study on real-time conditioning monitoring of the rail network
At the same time, LTA and NTU will embark on a research study to develop and design a real-time condition monitoring prototype to detect early signs of defects in traction power systems, so as to enhance preventive maintenance for our rail network. This will be done using a patented technology with fault diagnostic capability that can be used around the clock without disrupting normal train operations.
This study and the AV projects undertaken between LTA and NTU are amongst more than 20 research projects being conducted by the LTA-NTU TRC to date on specific focus areas, such as active mobility, self-driving vehicle technology and condition-based maintenance for the rail network. NTU is also working with various leading industry partners including bus manufacturers and companies that produce innovative autonomous sensors.
Apart from NTU, LTA has also established joint transport research centres with the National University of Singapore and Singapore Institute of Technology to intensify research and development for sustainable solutions to enhance our land transport system.
The Land Transport Authority
The Land Transport Authority (LTA) is responsible for planning, operating, and maintaining Singapore's land transport infrastructure and systems.
Our aim is to make public transport and other mobility forms come alive so travellers of all ages will look forward to their daily journeys. We want to make daily travel a way of life that is healthier, greener and more sustainable.