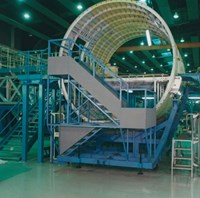 Today in Toulouse Leonardo-Finmeccanica and Airbus have agreed to the commercial conditions regarding the production of the front fuselage, section 14A, for the new ACF (aircraft cabin flex) configuration of Airbus A321 aircraft.
Starting in 2018 at its Nola site (near Naples), Leonardo will produce the aero-structure of this new configuration of Airbus A321, the twin-engine single-aisle aircraft capable of carrying 185 passengers in the typical two-class configuration or up to 220 persons in the economy version.
About Leonardo-Finmeccanica
Leonardo-Finmeccanica is among the top ten global players in Aerospace, Defence and Security and Italy's main industrial company. As a single entity from January 2016, organised into business divisions (Helicopters; Aircraft; Aero-structures; Airborne & Space Systems; Land & Naval Defence Electronics; Defence Systems; Security & Information Systems), Leonardo-Finmeccanica operates in the most competitive international markets by leveraging its areas of technology and product leadership. Listed on the Milan Stock Exchange (LDO), at 31 December 2015 Finmeccanica recorded consolidated revenues of 13 billion Euros and has a significant industrial presence in Italy, the UK and the U.S.