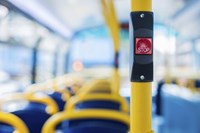 New Flyer of America Inc. ("New Flyer"), the U.S. subsidiary of New Flyer Industries Inc. ("NFI Group"), the largest transit bus and motor coach manufacturer and parts distributor in North America, today announced that the Los Angeles County Metropolitan Transportation Authority (LACMTA or "LA Metro") has awarded New Flyer of America a contract for up to 100 Xcelsior® battery-electric, zero-emission, 60-foot heavy-duty transit buses. The contract includes 35 firm orders with options to purchase an additional 65 buses.
The decision was spurred by LA Metro's commitment to all-electric transit buses by 2030, and was supported by the Federal Transit Administration (FTA) Local Labor Hiring Pilot Program. That program enables FTA grantees, including states and local agencies, to utilize social or economic contracting requirements in competitive bidding. In addition, the Transportation Diversity Council (TDC) will assist with local employment, hiring a diverse workforce, and the addition of life-skills training by the New Flyer Institute, the Company's proprietary learning center.
"We are honored to partner with LA Metro to pursue new frontiers for sustainable and zero-emission transit and proud to have been selected from this competitive procurement," said Wayne Joseph, President of New Flyer of America. "New Flyer has five decades of experience manufacturing electric transit buses, starting with trolleys in 1969. With the new Xcelsior CHARGE™ we can now deliver enhanced battery-electric transit technology on a proven bus platform that meets the demands of America's communities."
New Flyer's Xcelsior CHARGE™ buses will be deployed on LA Metro's technologically-advanced Orange Line. These buses offer up to USD $400,000 in energy savings and up to USD $125,000 in maintenance savings over a 12-year life span, and can travel up to 230 miles on a single charge. When charged on-route, the Xcelsior CHARGE™ remains continuously operational to meet daily service requirements.
"Metro is fully committed to improving the health of people across the region – and these new electric buses will help improve air quality and reduce noise pollution," said Los Angeles Mayor Eric Garcetti, Chair of the Metro Board. "As the largest transit agency in the country to commit to a fully electric fleet by 2030, Metro continues to serve as a global leader for sustainable policies, all while creating good-paying local jobs."
The NFI Group has been advancing innovation in battery-electric transit technology since 2008, and in October 2017, introduced the Xcelsior CHARGE™ - its next-generation battery-electric bus with improved design, performance, and technological advancement. It is the quietest, most accessible transit bus available, with the highest gross axle rating due to battery distribution.
New Flyer has bus service, parts, and manufacturing support at three California facilities located in Ontario, Los Alamitos, and Fresno. LA Metro currently serves as the transportation planner, coordinator, designer, builder, and operator for over 10 million people residing in a 4,000-square mile area. In 2017, it committed to all electric buses by 2030.
This new award, which includes the Xcelsior battery-electric buses and charging hardware, will add a total of 200 equivalent units to New Flyer's backlog. The NFI Group has over 50 years of experience in manufacturing zero-emission buses (ZEBs) and employs more American workers than any other bus manufacturer in North America.
About NFI Group
NFI Group is the largest transit bus and motor coach manufacturer and parts distributor in North America, with 31 fabrication, manufacturing, distribution, and service centers across Canada and the U.S. employing over 5,800 team members.
It is North America's heavy-duty transit bus leader and offers the largest transit bus product line under the brand Xcelsior®, incorporating the broadest range of drive systems available, including: clean diesel, natural gas, diesel-electric hybrid, trolley-electric, and battery-electric. NFI Group actively supports over 44,000 heavy-duty transit buses (New Flyer, NABI, and Orion) currently in service, of which 6,400 are powered by electric and battery propulsion.
NFI Group is also North America's motor coach market leader offering the Motor Coach Industries Inc. (MCI) J-Series, the industry's best-selling intercity coach for 11 consecutive years, and the MCI D-Series, the industry's best-selling motor coach line in North American history. MCI is also the exclusive distributor of Daimler's Setra S 417 and S 407 motor coaches in the United States and Canada. MCI actively supports over 28,000 coaches currently in service.
NFI Group also operates North America's most comprehensive parts organization, NFI Parts™, providing parts, technical publications, training, and support for its OEM product lines (transit buses and motor coaches). All buses and coaches are also supported by an industry-leading comprehensive warranty, service, and support network.
About Metro
The Los Angeles County Metropolitan Transportation Authority (Metro) is unique among the nation's transportation agencies. Created in 1993, Metro is a multimodal transportation agency that transports about 1.3 million passengers daily on a fleet of 2,200 clean air buses and six rail lines. The agency also oversees bus, rail, highway and other mobility-related building projects and leads transportation planning and programming for Los Angeles County.