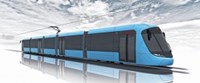 The Taiwan Rolling Stock Company (TRSC) has commissioned Leadec Engineering GmbH to develop a tram for the Danhai district in New Taipei City, Taiwan. The first low-floor trains – for the "Green Mountain Line" – will come into service in 2018.
The "Green Mountain Line" will cover the eight kilometers connecting New Taipei City center to the mountains on the outskirts of Danhai. The entire project management for the infrastructure and vehicle procurement is being handled by the China Steel Corporation – Taiwan's largest steel producer. The TRSC is responsible for providing the rolling stock.
The low-floor bidirectional vehicles, consisting of five sections, have a total length of 34.5 meters. They are standard-gauge vehicles which can drive over larger junctions and sections without requiring overhead powerlines. In order for this to be achieved, they are equipped with additional energy storage. For developing these vehicles, TRSC has commissioned experts from Leadec Engineering GmbH from Chemnitz, Germany.
Leadec Engineering GmbH's services cover the concept and design right through to commissioning – including reliability analysis, maintainability, and safety. The company is also assisting with production planning, factory planning, and designing fixtures for welding assemblies and integrating system components.
Selectron Systems AG will provide the TCMS solution to TRSC. This is based on the MAS 83x/73x product family consisting of the vehicle control unit, remote I/Os, and cab display (HMI) with a built-in recording and diagnosis system, which was developed with the Concerto® software tool. The system network technologies used are Ethernet and CANopen.
The first prototype was completed before the end of 2016; series production will have been completed by the end of 2017. In 2018, the first trains will travel on the "Green Mountain line".
About Selectron Systems AG
Selectron offers system solutions for automation in rail vehicles; this is more usually known as the Train Control and Monitoring System – TCMS. We specialize in control, network, and communication technology, whereby the main priority is for systems, components, and applications to be in accordance with the Safety Integrity Level (SIL) safety standards.