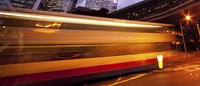 Today Luminator introduced it's "Get Real" Repair Service Program for the North American bus transit industry.
While a basic repair service program was in place Luminator has restructured and formalized the program to improve service and market competitiveness. A few key highlights of the program include:
A full 1 year warranty on any repaired or replaced item
Customer Service responsiveness within 24 hours
Competitive pricing on non-warranty items vs third party repair shops
Typical repair turnaround time of 1-2 days for stocked items
Unmatched quality to 'factory new' condition by an OEM factory trained professional
Field Service support available locally throughout North America for on-site assistance if needed
"We felt the need to better communicate our repair service mission to transit authorities so that they clearly see the benefits of having reliable, fast, competitive fleet repairs direct from the OEM product manufacturer", said VP of Sales & Marketing Dan Kelleher. The "Get Real" program is immediately in effect and fully supported.
About Luminator Technology Group, LLC.
Luminator Technology Group, LLC (LTG) is a global manufacturer of state of the art LED based signage, lighting, and passenger information systems for the mass transit industry. Headquartered in Plano, Texas (a suburb of Dallas), LTG has sales, manufacturing and engineering facilities in the United States, Canada, Denmark, Germany, Sweden, Brazil and Australia. LTG brands are recognized throughout the industry for high quality and performance achieved through world class engineering innovation and design.