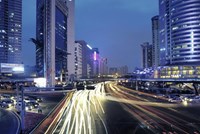 In its recently completed funding round, MaaS Global managed to raise €14.2 million. Significant additional investments were made by Transdev, Veho and Karsan, who are among the Finnish company's older shareholders. New investors include the Japanese company DENSO and the Turkish company Swiftcom, as well as Toyota Financial Services and Aioi Nissay Dowa, whose investments were announced about a month ago. MaaS Global's Whim mobility service, which operates in the Helsinki region, is being launched this year in the West Midlands, UK and the Amsterdam region, Netherlands.
The growth company MaaS Global, a developer of a next-generation mobility app, has successfully completed an international funding round. In June the first major investors, Toyota Financial Services and Aioi Nissay Dowa Insurance Company, were announced. New investors include Japanese car technology giant DENSO Corporation and Turkish technology service company Swiftcom.
Mr. Sadahiro Usui, President and CEO, DENSO International Europe says:
"We are very pleased to partner with MaaS Global to jointly develop the emerging mobility service market and ecosystem that revolutionize the way people access to all modes of transportation, and which also contributes to DENSO's core mission to realize a future sustainable automotive society."
As part of the recent funding round, the existing shareholders Transdev, Karsan Otomotiv Sanayii Ticaret AS and Veho Oy Ab increased their ownership in MaaS Global.
Mr. Thierry Mallet, CEO, Transdev says:
"As first investor in MaaS Global, we strongly believe that we are moving forward to the mobility of tomorrow with Whim. We welcome our new partners in our quest to offer passenger a true alternative to car ownership."
The aim: easy mobility worldwide
MaaS Global wants to globally revolutionise the way people move. The Whim app, launched by the company in the Helsinki region, is the world's first mobility service which allows users to book and pay for all mobility services in one app and for a monthly fee.
Thanks to this exceptionally successful funding round MaaS Global can take mobility services to international markets. Whim is already in test mode in the West Midlands region of the UK, and later this year the service will be launched in the Amsterdam region. MaaS Global's Founder and CEO, Sampo Hietanen, has a vision of seamless mobility in and between cities.
"In the future, you will be able to move anywhere, at any time and by any mode of transport without needing to own a vehicle. Our goal is to build a global roaming system for transport which people can use to travel from, say, Helsinki to Brussels using one app. Strategic investments ensure that we are among the first in this mobility revolution," Mr. Hietanen says.
About MaaS Global
We at MaaS Global believe it's time for transport to move on and get smarter. As the world's first ever mobility operator, we're set to make the biggest change in transport since affordable cars came to market.
Our aim is to provide people an alternative to owning a car – an alternative that is not just equally good, but much better. By fulfilling people's every travel need, complemented by attractive value added services, we are enabling a future of easy, efficient and sustainable mobility.