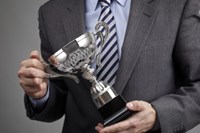 This year's Red Dot Awards provided yet more evidence of the growing mainstream appeal of new kinds of mobility services. Finnish MaaS Global's groundbreaking mobility app, Whim, won the prestigious German award for Communication Design. The awards were announced in the Aalto Theater in Essen, Germany on October the 26th.
Designed with Shape Helsinki, the Whim app combines various transport options, from public transit to taxis, rental cars, shared bikes and more, under one convenient interface. It is intended to transform the way people move by fulfilling their complex mobility needs with a single, all-inclusive season ticket. Ultimately, the flexible service aims to replace the necessity of private car ownership.
The CXO and Co-Founder of MaaS Global, Kaj Pyyhtiä, is pleased, impressed and humbled by the Red Dot award:
"It's extremely flattering that contemporary leaders and influencers in the field of user experience and design agree with the approach we've taken to revolutionise mobility. We're very fortunate to have found such a knowledgeable team of service design professionals. Such validation to our hard work will surely be of use as we continue Whim's global expansion."
Whim, based on the MaaS (Mobility as a Service) concept, is the world's first and only monthly mobility service of its kind. Already launched in the Helsinki region in Finland and the West Midlands, UK, Whim will expand later in 2017 to Greater Amsterdam in the Netherlands and the Antwerp region in Belgium. Negotiations are ongoing in Austria, Canada, Singapore, and several other markets.
Whim's Red Dot Award follows Smart City awards in both Finland and Sweden, The Best Mobile Service in Finland award, and two Vuoden Huiput (Best of the Year) design awards. Besides these accolades, MaaS Global and Whim have received impressive global recognition in leading media, including The Economist and New York Times.
Since 1955, the Design Zentrum Nordrhein Westfalen has been giving out Red Dot Awards to excellent product design every year. From fashion and accessories to consumer electronics to vehicles, medical technology and furniture manufacturers and designers can submit their industrial products in 47 categories.
About MaaS Global
We at MaaS Global believe it's time for transport to move on and get smarter. As the world's first ever mobility operator, we're set to make the biggest change in transport since affordable cars came to market.
Our aim is to provide people an alternative to owning a car – an alternative that is not just equally good, but much better. By fulfilling people's every travel need, complemented by attractive value added services, we are enabling a future of easy, efficient and sustainable mobility.