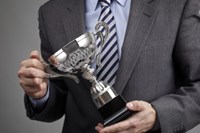 Whim, a travel app by Finnish growth company MaaS Global, has won the top award in the Best Mobile Service in Finland contest. Whim, which combines different forms of transport into a single easy-to-use service, was named as the service with the best global potential. The winners were announced at an event at Suomi Areena in Pori on July the 11th 2017.
The Best Mobile Service 2017 contest, organized since 2012 by Teleforum ry and Ohjelmistoyrittäjät ry, showcases the latest mobile innovations from Finland. The winners were chosen based on a public vote and the decision of a multi-disciplined, highly experienced jury chaired by the Minister of Transport and Communications Anne Berner.
"The high standard of services in this year's contest proves that Finland is at the forefront of digitalization. We are particularly proud of Finnish know-how in new mobility, health and well-being services. In addition to adding convenience to the lives of Finnish people, these fields have huge global market potential," Berner explains.
Whim won the highest accolade for its pioneering achievement in MaaS (Mobility as a Service), a concept for bringing all means of travel together. The app allows people to use public transport and a fixed amount of taxis and rental cars with a monthly subscription. By enabling the purchase of different modes of transport through one app, Whim offers a viable alternative to owning a car.
The jury praised MaaS Global's user-centric and high quality service development, while also highlighting Whim's wider implications for Finland's national digital leap and international competitiveness. According to the jury, Whim shows that Finland is in a prime position to challenge the vast global mobility market.
In June, MaaS Global announced an over €10m funding round by strategic investors Toyota Financial Services and insurance company Aioi Nissay Dowa.
"It is great to be honoured by jury but also by our investors. These are still early days for us, so we are very proud and humbled by the attention at the same time," says Sampo Hietanen, the CEO and Founder of Whim.
"Whim aims to be the ground-breaking mobility app that genuinely fulfils customer needs in the fast-changing transportation market."
About Whim
The Whim mobile app frees you to travel wherever and whenever, with public transport, taxis, brand-new cars and more. A monthly Whim package covers all your daily journeys and the service can also be used on a pay-per-ride basis. Whim is available in the Helsinki region in Finland and will be expanded into the West Midlands, UK and Amsterdam area, NL at the end of 2017.
About MaaS Global
We at MaaS believe it's time for transport to move on and get smarter. As the world's first ever mobility operator, we're set to make the biggest change in transport since affordable cars came to market.
Our aim is to provide people an alternative to owning a car – an alternative that is not just equally good, but much better. By fulfilling people's every travel need, complemented by attractive value added services, we are enabling a future of easy, efficient and sustainable mobility.