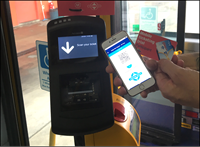 Masabi, the global leader in transit mobile ticketing and innovative fare collection, is proud to be part of operating a two month trial in South Australia, with the Department of Planning, Transport and Infrastructure (DPTI) to test the feasibility of smartphone-based payments on South Australia's public transport network.
Masabi's Justride is being tested by 50 DPTI employees on Adelaide city trams and SouthLink operated Hills and Outer South Express bus services. In addition, Mastercard is providing its gateway services to facilitate test payments linked to South Australia's acquirer, Commonwealth Bank of Australia.
As part of the trial Masabi has deployed 15 VAL 100 on-board ticket validation units in partnership with Access-IS, that allow passengers to scan mobile tickets and provide DPTI with real-time usage data.
Masabi's Justride is a cloud-based, deployment-proven, end-to-end mobile ticketing and fare collection platform. It comprises award-winning apps for ticket purchase, display and inspection together with back-end infrastructure for secure payments, ticket management, customer service, reporting and real-time analytics.
"More and more cities around the world are adopting our mobile ticketing technology, making journeys easier for passengers while also saving money and increasing efficiency for transport authorities," said Brian Zanghi, CEO of Masabi. "Following on from successful deployments in cities such as New York, Boston, Los Angeles and London we are delighted to be demonstrating our technology in a major Australian city."
"Adelaide recognises the global movement to create more responsive and more inclusive cities" said Mike Rowe, Vice President, Mastercard Australia. "It's very fitting that mobile ticketing is being tested here first. Whether residents or visitors – people are digitally connected, and smart city solutions get them on their way faster and easier."
"The problems mobile ticketing solves are familiar to commuters around the world. Having to wait in line to buy a ticket, needing the correct change or having to top up a smartcard, all waste time and create hassle," said Brandt Olson, CIO of Keolis, International. "This trial in Adelaide using the Justride platform of our global smart ticketing partner, Masabi, allows the benefits of truly smart ticketing to be shown in another major global city and we are excited to see the outcome."
About Masabi
Masabi deliver transit ticketing solutions that delight passengers and reduce costs for agencies and operators. Masabi's Justride cloud-based platform unifies account-based and pre-pay ticketing into a single configurable solution, enabling agencies to deploy a future-proof specialist transit payments platform, which allows passengers to just ride. The company works in partnership with more than thirty leading transit agencies and operators in the US, Europe and around the globe, including; Boston's MBTA, Nassau Inter-County Express, Fire Island Ferries, New Orleans RTA, LA Metrolink, Las Vegas RTC and New York's MTA. Masabi has offices in London, New York and Boston and investors include Mastercard and Keolis.