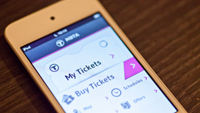 The MBTA and Masabi, the leader in transit mobile ticketing and innovative fare collection, have agreed to a contract for Masabi to continue delivering mobile ticketing services across all MBTA Commuter Rail and Commuter Boat routes. The agreement will enhance the MBTA's existing mobile-ticketing system, which is widely recognized as one of the transit industry's most successful mobile-ticketing programs.
"Working closely with our mTicket partners, the MBTA is stepping up its efforts to leverage cutting-edge technology to improve our customers' experience," said MBTA Chief Administrator Brian Shortsleeve."This innovative app makes the fare collection process easier and more efficient for both Commuter Rail riders and the MBTA."
MBTA and Masabi launched the United States' first full smartphone commuter rail ticketing system in the fall of 2012. That program has since grown to become one of the most successful deployments of its kind. The system has seen sustained growth since launch, with more than one-third of tickets on the MBTA's Commuter Rail now purchased on smartphones.
Improvements that MBTA commuters can expect to see when the updated ticketing-system deploys later this year include:
Mobile wallets such as MasterPass and ApplePay that will streamline the purchase process
Favorite and recent trips saved on the home screen

Improved look and feel and purchase flow

Electronic validation of tickets for enhanced security
Masabi was chosen after a competitive selection process that included many bidders. The contract will see the MBTA's costs cut in-half from the initial pilot program, representing a cost savings of hundreds of thousands of dollars that can be reinvested in MBTA operations.
"The MBTA have always been willing to embrace innovation, and our deployment in Boston continues to set the standard for mobile ticketing both across the United States and worldwide," said Brian Zanghi, CEO at Masabi. "The coming months will see the introduction of many exciting changes to make the technology even better both for MBTA and their riders."
Masabi's mobile ticketing technology is in use by transit agencies worldwide including New York's Metropolitan Transportation Authority, Los Angeles' Metrolink, New Orleans' RTA, London's Thames Clippers, and the transit agency in Athens, Greece.
About Masabi
Masabi is the global leader in mobile ticketing and fare collection for transportation. We deliver transit ticketing solutions that delight customers and reduce cost for agencies and operators. Masabi's JustRide is a scalable mobile ticketing and fare management platform. Masabi works in partnership with more than twenty leading transit agencies and operators in the US, UK, and Europe, including the Massachusetts Bay Transportation Authority (MBTA), Virgin Trains, Abellio, Thames Clippers, New Orleans RTA, Metrolink in Los Angeles, Transport for Athens, and New York's MTA.