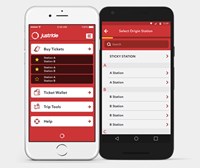 Masabi, the global leader in transport mobile ticketing and innovative fare collection, today announced that it has deployed mobile ticketing on trams and buses to HTM Personenvervoer NV, the public transport company for The Hague, in The Netherlands. The service is now live across the cities' 17 lines, which account for more than 90 million euros in fare revenue per year. Masabi has deployed JustRide, its award winning, end-to-end mobile ticketing system operating in cities around the world.
In The Hague passengers without an OV Chipcart previously had to purchase single-use and day tickets, available as disposable smart cards. These tickets cannot be reused and must be bought either on-board or from vending machines at stations throughout the city. JustRide allows passengers to buy tickets anywhere, anytime on their smartphones using an application with support for Dutch, German and English, and payments using IDEAL, the popular Dutch payments system.
As a part of the deployment, JustRide also 'deeplinks' to the HTM trip planning application, allowing real-time A to B route planning and service updates to be accompanied by the option to seamlessly purchase and store transit tickets on passenger devices.
Masabi's JustRide is a cloud-based, deployment-proven, end-to-end mobile ticketing and fare collection platform. It comprises award-winning apps for ticket purchase, display and inspection together with back-end infrastructure for secure payments, ticket management, customer service, reporting and real-time analytics.
"Around the world more and more major cities are turning to JustRide to improve the public transport experience. The introduction of mobile ticketing in The Hague is the first city-wide deployment of its kind anywhere in The Netherlands, and we are delighted that yet another major city has chosen the JustRide platform," said Brian Zanghi, CEO of Masabi. "This is a landmark project that is changing the way people travel in the city, with passengers able to buy tickets anywhere, anytime at the touch of a button."
The ticketing app is available for download from Google Play and the Apple App store.
About Masabi
Masabi is the global leader in mobile ticketing and fare collection for transportation. We deliver transit ticketing solutions that delight passengers and reduce costs for agencies and operators. Masabi's JustRide is a scalable mobile ticketing and fare management platform. The company works in partnership with more than twenty-five leading transit agencies and operators in the US, Europe and around the globe, including; Boston's MBTA, Keolis, National Express Bus, Thames Clippers, New Orleans RTA, LA Metrolink, Transport for Athens and New York's MTA. Masabi has offices in London, New York and Boston and investors include Mastercard and Keolis.