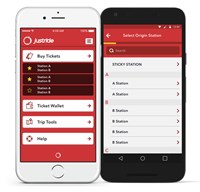 Masabi, the global leader in transport mobile ticketing and innovative fare collection, today announced JustRide Express – a radical new offering giving small and mid-sized transit agencies and private operators a world class, deployment proven, and complete mobile ticketing system. Available for a cost-effective fixed monthly fee and with no upfront costs, the system is deployable in less than 90 days and is available on a one year contract. JustRide Express brings Masabi's JustRide Platform to a whole new market, offering an affordable, market leading, mobile ticketing solution based on the same proven technology deployed in major cities such as New York, Boston, Los Angeles, Athens and London.
JustRide Express comprises of a custom branded JustRide Express App, allowing customers to quickly and securely purchase and display tickets on their smartphones. Also included is the JustRide Express Hub, a secure cloud-based back office providing real time data, reporting and analytics, as well as customer service tools. JustRide Express is available from $1,999 per month with a range of optional extras available.
"Mobile Ticketing is becoming a must-have for transport providers of all sizes – from tier 1 cities to small private operators. However, the traditional solutions currently in the market are too costly and slow to deploy to serve a huge segment of the market," said Brian Zanghi, CEO of Masabi. "JustRide Express is built on Masabi's proven platform with an offering tailored to the needs of the mid-market. In initial conversations with transport companies we have received a hugely positive response and are already working with our first customers."
JustRide Express is initially available in the US, UK, Australian, Canadian and Irish markets. Other countries around the globe will also be able to deploy JustRide Express as it it made available over the coming months. Monthly fees for each region can be found on the JustRide Express page, or are available on request.
About Masabi
Masabi is the global leader in mobile ticketing and fare collection for transportation. We deliver transit ticketing solutions that delight passengers and reduce costs for agencies and operators. Masabi's JustRide is a scalable mobile ticketing and fare management platform. The company works in partnership with more than twenty-five leading transit agencies and operators in the US, Europe and around the globe, including; the Massachusetts Bay Transportation Authority (MBTA), Keolis, National Express Bus, Virgin Trains, Abellio, MBNA Thames Clippers, New Orleans RTA, Metrolink in Los Angeles, Transport for Athens, and New York's MTA. With offices in Boston and London, Masabi's investors include MasterCard and Keolis.