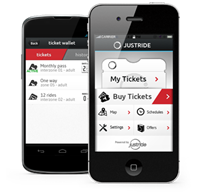 Masabi, the global leader in mobile ticketing for transport, will demonstrate its technology in Australia at the ITS World Congress to be held in Melbourne, October 10th to 14th. The company will provide a live demonstration of its award-winning JustRide mobile ticketing application on the Keolis Downer booth and Josh Nicklin, Masabi's Head of Business Development, will take part in a congress session at 11am on the Wednesday. The session will feature discussion around mobile ticketing including Masabi's recent deployments with MTA in New York, along with Athens and Boston, where over 1/3 of all tickets are sold via the mobile channel.
Masabi will be joining Keolis Downer, Australia's largest provider of multi-modal public transport, in order to demonstrate how mobile ticketing can impact customer satisfaction and operational efficiency, as evidenced by its 25+ deployments worldwide.
Masabi's JustRide platform is a cloud-based, end-to-end mobile ticketing and fare collection system, in use in cities worldwide. It comprises award-winning apps for ticket purchase, display and inspection, together with back-end infrastructure for secure payments, ticket management, ticket inspection, customer service, reporting and real-time analytics.
"Mobile ticketing removes frustration and inconvenience from daily commutes, whilst reducing costs and providing unprecedented levels of information for transport operators," said Josh Nicklin, Masabi's Head of Business Development. "We see huge potential, working with our partners, to bring our technology to the Australian market and we're excited to be in Melbourne."
ITS World Congress serves as a platform where a broad and varied range of commercial exhibitors, public administrations and ITS related organisations can showcase the latest advances and solutions to a cross-section of delegates coming from around the globe to exchange views and create business opportunities. 2016 is its 23rd year.
About Masabi
Masabi is the global leader in mobile ticketing and fare collection for transportation. We deliver transit ticketing solutions that delight passengers and reduce costs for agencies and operators. Masabi's JustRide is a scalable mobile ticketing and fare management platform. Masabi works in partnership with more than twenty-five leading transit agencies and operators in the US, UK, and Europe, including; the Massachusetts Bay Transportation Authority (MBTA), Keolis, Virgin Trains, Abellio, MBNA Thames Clippers, New Orleans RTA, Metrolink in Los Angeles, Transport for Athens, and New York's MTA.
About Keolis Downer
Keolis Downer is Australia's largest private provider of multi-modal public transport. We are the largest light rail operator in Australia and one of the nation's most significant bus operators. Keolis Downer provides services to more than 210 million people each year, we employ 4,000 staff and are headquartered in Sydney. We provide transport services to people across Australia, including Melbourne, Gold Coast, Brisbane, Perth, Adelaide and regional South Australia. Our shareholders are Keolis, one of the leading worldwide multimodal transport operators (51%) and Downer, a leading provider of services to customers in markets including transportation, mining, energy and industrial engineering, utilities, communications and facilities.