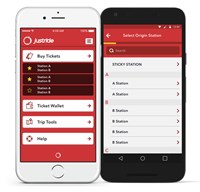 Metrolink has launched the first version of its mobile ticketing app, which will allow its riders the option to purchase their ticket on a smartphone, tablet or other mobile device for the first time in the agency's 23-year history. The app is available in both Google Play and the Apple App stores.
"This app means easier access for Metrolink riders," said Chair of the Metrolink Board of Directors Shawn Nelson, who is also an Orange County Supervisor representing communities along the Inland Empire-Orange County Line. "The Metrolink Board of Directors is pleased to finally offer our riders this technology as an overdue option."
While the app is available for download by all riders, during the month of March, only Inland Empire – Orange County Line riders will be able to use the app to purchase tickets and connect to local bus operators at no additional cost per the current policy. This gives Metrolink the opportunity to test the app and make any improvements before the app is implemented system-wide.
"By taking a phased approach in the implementation of our new app, Metrolink intends to make regular improvements and upgrades based on feedback from our users," said Metrolink CEO Art Leahy. "Our riders can look forward to continuous improvement of Metrolink service, including mobile ticketing."
Beginning in early April, mobile ticketing will be expanded to the entire Metrolink system and include free transfers to participating bus operators including Metro. Initially, riders who transfer to Metro Rail, Corporate QuickCard users and Metrolink riders who take part in the Rail 2 Rail® program with Amtrak should continue to use paper tickets from Metrolink's ticket vending machines.
Metrolink will be implementing a variety of enhancements to enable these users to use mobile ticketing in the future. This fall, barcode readers will be installed on the Metro Rail fare gates, enabling passengers throughout the Metrolink system to buy tickets through the Metrolink Mobile App and continue their commute on dozens of city bus, shuttle bus, light rail and subway lines seamlessly and at no additional cost. Metrolink is also working with Amtrak to allow mobile tickets to be scanned by Amtrak conductors.
The Metrolink Mobile App uses the Masabi JustRide mobile ticketing system, which is used by other transportation providers across the US and Europe.
Since the agency's inception in 1991, passengers purchasing tickets and passes at stations only had the option of going to a ticket vending machine. Mobile ticketing is Metrolink's first step toward revolutionizing how riders pay to ride the train. In the coming months, Metrolink expects to deliver continued enhancements, such as the ability to buy tickets online for delivery to mobile devices. Tickets and passes will continue to be available at station ticket machines.
About Masabi
Masabi is the global leader in transit mobile ticketing and payments. The company's award-winning JustRide platform is a cloud-based, deployment-proven, end-to-end mobile ticketing and fare collection system.
It consists of services for ticket purchase, display and inspection, together with back-end infrastructure for secure payments, ticket management, customer service, reporting and real-time analytics.
Masabi's technology signals the end of ticket lines, lost tickets and fumbling for cash by allowing passengers to quickly and securely buy and display tickets on their mobile phones.
Masabi's scalable cloud-based technology is operational with over 20 transport agencies and operators round the world, including: Virgin Trains, Arriva, Abellio, Thames Clippers, Boston's MBTA, New Orleans RTA, Transport for Athens and NICE Bus in New York.
Masabi is backed by Fontinalis Partners, Lepe Partners, m8 Capital, MasterCard, MMC Ventures and Keolis.
About Metrolink
Metrolink is Southern California's regional commuter rail service in its 23rd year of operation. The Southern California Regional Rail Authority (SCRRA), a joint powers authority made up of an 11-member board representing the transportation commissions of Los Angeles, Orange, Riverside, San Bernardino and Ventura counties, governs the service.
Metrolink operates over seven routes through a six-county, 512 route-mile network. Metrolink is the third largest commuter rail agency in the United States based on directional route miles and the eighth largest based on annual ridership.