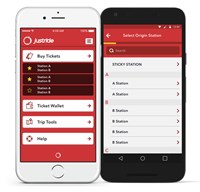 Masabi, the global leader in mobile ticketing and fare collection for transportation, today announced it has been selected to provide mobile ticketing to Metrolink – a passenger rail system serving Southern California including; Los Angeles, Orange, Riverside, San Bernardino, and Ventura counties, as well as Oceanside in San Diego County. Masabi will be deploying its mobile ticketing system, JustRide, which has been successfully deployed in other large cities including; Athens, Boston, New Orleans, London and is set to launch on New York's Commuter Rail and across France later in 2016.
Masabi's JustRide platform is a cloud-based, deployment-proven, end-to-end mobile ticketing and fare collection system. It comprises award-winning apps for ticket purchase, display and inspection, with back-end infrastructure for secure payments, ticket management, customer service, reporting and real-time analytics. After a successful trial, mobile tickets will be made available for travel across all of Metrolink's seven lines and nearly 60 stations by the fall.
Masabi's handheld 'Inspect' validation application, which is available on iPhone and Android devices, is already in use across the Metrolink network. In addition, optical barcode readers will be installed at station turnstiles, allowing tickets and passes purchased on mobile devices to seamlessly open gates. This year, riders on all seven Metrolink service lines will have the option of buying their tickets through mobile ticketing and continue a seamless connection to dozens of city bus, shuttle bus, light rail and subway lines.
"Mobile ticketing is increasingly becoming a key requirement for transit authorities both across the US and around the world," said Brian Zanghi, CEO of Masabi. "Following on from our successes in New York, Boston, London and Athens we are delighted to be now adding Los Angeles to the roster of major cities embracing our smartphone technology to enhance their customers' experience. We look forward to bringing JustRide to the commuters of Southern California."
"The Metrolink Board of Directors has long stressed the importance of bringing Metrolink into the 21st century in terms of ticket purchasing," Metrolink CEO Art Leahy said. "This action is an important milestone taking us one step closer to providing a digital option for Metrolink riders transferring to Metro rail. Passengers will soon be able to buy a ticket using their phone for travel throughout Southern California."
"At Masabi we have always been focused on improving the travel experience by using technology to remove the hassle of waiting in line and take the frustration out of commuting,' said Josh Robin, VP North America at Masabi. "We are proud to have been selected by Metrolink in a highly competitive tender and are excited to be bringing our technology to make everyday commuting simpler for thousands of Californians."
About Masabi
Masabi is the global leader in mobile ticketing and fare collection for transportation. We deliver transport ticketing solutions that delight customers and reduce cost for agencies and operators. Masabi's JustRide is a scalable mobile ticketing and fare management platform, which allows agencies to upgrade or replace their legacy ticketing systems at a fraction of the cost of traditional options and at a minimum risk for our agency partners. Masabi is backed by Fontinalis Partners, Lepe Partners, m8 Capital, MasterCard, MMC Ventures and Keolis.