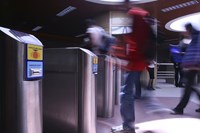 Mastercard, together with industry partners, Cyberview Sdn Bhd and Malaysian Global Innovation & Creativity Centre (MaGIC), today reiterates its continued commitment to transform Cyberjaya as a Smart City with a focus on cashless initiatives. This was solidified following the 'Launch of the Smart City of Cyberjaya: Innovation Drives the Smart City Transformation' which was officiated by Prime Minister, Yang Amat Berhormat (YAB) Dato' Sri Mohd Najib Tun Haji Abdul Razak.
Mastercard will be providing its global expertise in innovative payment technology and network to increase the digitalisation of payments. This echoes Cyberjaya's high impact agenda in becoming a cashless society, to elevate its foothold as a Smart City.
Ashran Dato' Ghazi, Chief Executive Officer of MaGIC said, "Cyberjaya has once again demonstrated how it is Malaysia's entrepreneurial hub and a test-bed for innovative ideas. Today, with the announcement of these pilot programmes we are excited to see real and developmental progress of our tri-party Memorandum of Understanding (MOU) with Cyberview and Mastercard to promote a cashless society in Malaysia. This collaboration is an example of our Corporate Entrepreneurship Responsibility (CER) programme in action, through which we hope to catalyse partnerships between entrepreneurs and players in the corporate sector, as well as power innovation to build Malaysia's future economy. We hope to see more corporates participating in our CER programme and solve business challenges or confront disruption hand-in-hand with entrepreneurs. Together, we can predict and help solve the business challenges of the future, demonstrating the power of entrepreneurship in creating new value for the future economy."
Perry Ong, country manager, Malaysia and Brunei, Mastercard said, "E-payments are at the centre of a city's economic vitality and its integration is crucial to promote a smarter, more sustainable and inclusive space for residents, commuters and local businesses. By leveraging in-depth industry insights and technology expertise, we will work towards enhancing Cyberjaya's payment ecosystem with a comprehensive suite of simple, safe and smart digital solutions. The implementation will cover various sectors in Cyberjaya such as urban mobility, lifestyle, finance, health, supply chain and education sectors to empower the community to go cashless. This initiative is in line with the government and Bank Negara Malaysia's vision to transform Malaysia into a leading digital economy and cashless society."
Mastercard will embark on a pilot programme to test several smart city applications beginning Q3 2017. This also entails a partnership with internationally-renowned player in the smart city scene, Masabi, a global leader in mobile ticketing and innovative fare collection for transportation based in London to implement quality innovations that will benefit the Cyberjaya community. The pilots will first focus on the transportation as well as food and beverage (F&B) sector with more sectors to be included in phases. Cyberjaya will be the starting point and benchmark of this cashless society development, as part of larger plans to replicate these concepts into other Smart Cities throughout Malaysia, in the future.
The pilot programmes were highlighted as part of demonstrations for the Prime Minister's tour of the launch showcase, comprising:
Introduction of Masterpass QR
For consumers, the service will allow consumers to pay for goods and services from their mobile phones by utilizing a QR code without the need of a point-of-sale (POS) or mobile point-of-sale (MPOS) terminal. Merchants are only required to display a Masterpass QR code at the point of sale to accept e-payments.
This is targeted at smaller scale Tier 4 merchants such as food stalls and coffee shops in Cyberjaya and nearby Putrajaya, allowing this segment to offer simple and safe e-payment options to customers and convert them to be part of the larger digital economy.
Mobile ticketing application with Masabi
Bus ticketing goes completely digital with Masabi's JustRide mobile ticketing system, enabling anyone to use an app on their mobile phone to buy tickets quickly, easily and securely – anytime and anywhere. Consumers' devices serve both as the ticket vending machine and ticket, removing the need to wait in line for a physical paper ticket when taking the bus.
JustRide simplifies ticketing and validation using consumer smartphones, coupled with a web based management portal meaning no physical infrastructure is needed for this smart ticketing deployment covering the entire bus transportation network. JustRide is deployment proven across train, ferry, bus and subway in cities around the globe such as New York, London, Boston, Las Vegas and Athens.
This will support the Cyberjaya intercity bus service.
Bike-sharing platform
Providing more options for urban mobility with easy usage of smart bicycles which have a GPS tracker feature. A mobile app allows consumers to make payments on their smartphones for use of these bicycles.
Artificial intelligence (AI) chatbots
Making food takeaway from restaurants a more seamless and interactive experience whereby consumers can engage with merchant brands to build their order via AI-based chatbots using existing messaging platforms.
Chatbot learns user's preferences, personality and will facilitate takeaway orders which will be simple as a 'one click' checkout experience using Masterpass
It will be the first-of-its-kind conversational commerce innovation in Malaysia.
The initiative follows the formalisation of a tri-party MoU signed at the Smart City Expo World Congress in Barcelona between Cyberview Sdn Bhd, MaGIC, and Mastercard on November 15, 2016 on a fleet of initiatives to transform Malaysia into a cashless society in line with the government's efforts to reduce cash transactions and increase e-payments.
About Mastercard
Mastercard (NYSE: MA) is a technology company in the global payments industry. We operate the world's fastest payments processing network, connecting consumers, financial institutions, merchants, governments and businesses in more than 210 countries and territories. Mastercard's products and solutions make everyday commerce activities – such as shopping, traveling, running a business and managing finances – easier, more secure and more efficient for everyone. Follow us on Twitter @MastercardAP and @MastercardNews, join the discussion on the Beyond the Transaction Blog and subscribe for the latest news on the Engagement Bureau.
About Masabi
Masabi is the global leader in mobile ticketing and fare collection for transportation. We deliver transit ticketing solutions that delight passengers and reduce costs for agencies and operators. Masabi's JustRide is a scalable mobile ticketing and fare management platform. The company works in partnership with more than twenty-five leading transit agencies and operators in the US, Europe and around the globe, including; the Massachusetts Bay Transportation Authority (MBTA), Keolis, National Express Bus, Virgin Trains, Abellio, MBNA Thames Clippers, New Orleans RTA, Metrolink in Los Angeles, Transport for Athens, and New York's MTA. With offices in Boston and London, Masabi's investors include MasterCard and Keolis.