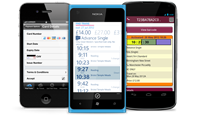 Masabi, the global leader in mobile ticketing and fare collection for public transport, today announced that it has integrated Masterpass and Apple Pay digital wallet technology into MTA eTix, the mobile ticketing app that enables Metro-North Railroad and Long Island Rail Road customers to purchase their tickets anywhere, anytime. Starting today, it will now be even easier for customers of both railroads to buy tickets using these wallets to purchase one way, round trip, ten trip, weekly, CityTickets, and monthly passes through MTA eTix.
Masabi's JustRide mobile ticketing platform powers eTix as well as the mobile ticketing services of transport authorities across the United States, Europe and the rest of the world. JustRide is a cloud-based, deployment-proven, end-to-end mobile ticketing and fare collection system. It comprises award-winning apps for ticket purchase, display and inspection, with back-end infrastructure for secure payments, ticket management, customer service, reporting and real-time analytics.
"JustRide is changing the way riders travel in the New York region, allowing them to buy tickets anywhere, at anytime, with a few taps," said Brian Zanghi, CEO of Masabi. "By adding Masterpass and Apple Pay we have made purchasing a ticket even easier and we are delighted to be bringing these wallets to riders in New York and soon across our other JustRide cities."
"We have worked tirelessly to rebuild and reimagine New York's transit system for the 21st century and a key part of those efforts is to incorporate the amenities that modern day riders demand," Governor Cuomo said. "By adding the use of cutting edge technology like Apple Pay and Masterpass, we are not only making mass transit easier to use, but are also improving the overall experience of riders."
MTA Chairman and CEO Thomas F. Prendergast said, "We're pleased to welcome both Apple Pay and Masterpass to the eTix experience. We believe that the addition of these secure payment options will help us to do an even better job of meeting the needs of our customers, and we look forward to further building the user-base for the app in the weeks and months ahead."
Mastercard North America President Craig Vosburg said, "Mastercard is working with the world's leading cities and industry partners to remove the friction that slows down how people move around them. The integration of Masterpass into the MTA eTix app is a tremendous showcase of progress on this commitment as we look to build out a seamless user experience for commuters in New York. In today's fast-paced, always connected world, people expect to have access to payment solutions that deliver a simple and secure experience and this collaboration truly delivers on that."
Apple Pay Vice President Jennifer Bailey said, "The New York commute just got that much easier thanks to Apple Pay in the MTA eTix app. Now you can skip the line entirely to buy train tickets right on your iPhone."
About Masabi
Masabi is the global leader in mobile ticketing and fare collection for transportation. We deliver transit ticketing solutions that delight passengers and reduce costs for agencies and operators. Masabi's JustRide is a scalable mobile ticketing and fare management platform. Masabi works in partnership with more than twenty-five leading transit agencies and operators in the US, Europe and around the globe, including; the Massachusetts Bay Transportation Authority (MBTA), Keolis, Virgin Trains, Abellio, MBNA Thames Clippers, New Orleans RTA, Metrolink in Los Angeles, Transport for Athens, and New York's MTA.
About MTA eTix
MTA eTix empowers LIRR and Metro-North customers to board using their smartphone instead of a paper ticket, as well as check schedules and see train service status, which interconnects with the popular Train Time apps for Metro-North and the LIRR. The app also offers account management tools, giving railroad customers the ability to secure refunds for unused mobile tickets, request duplicate receipts, and manage profile info such as password and linked credit card numbers.