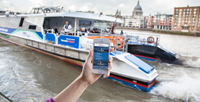 Masabi, the global leader in mobile ticketing and fare collection for public transport, today announced that a significant range of enhancements have been introduced to the existing mobile ticketing system for MBNA Thames Clippers, the London-based river bus operator.
Masabi and MBNA Thames Clippers launched London's first full smartphone-based transport ticketing solution in June 2014, enabling users to buy tickets anywhere, anytime and removing the need to queue prior to boarding to purchase a ticket. The programme has since grown to become one of the most successful of its kind, with MBNA Thames Clippers having further strengthened their commitment to a policy of buy-before-you-board by adding price incentives for users of the mobile channel.
Improvements that MBNA Thames Clippers passengers can expect to see from today when using the updated ticketing-system include:
– A brand new user interface, incorporating a cleaner and simpler user experience throughout the app
– Improved in-app performance and enhanced payment management
– Integrated purchase flow for real-time departures
– Both guest and registered users can now manage payment details
"We have been delighted with the success of the ticketing app over the last two years," said Sean Collins, CEO of MBNA Thames Clippers. "The service has proven particularly popular with our regular commuters and season ticket holders who have welcomed the ease of a self-serve ticket application. The app's popularity continues to grow and we look forward to introducing these upgrades and developing the product further with Masabi."
"MBNA Thames Clippers have never shied away from embracing innovation and using technology to improve their product offering," commented Brian Zanghi, CEO of Masabi. "Our work with some of the world's leading commuter ferry services in cities like London and Boston has demonstrated that mobile ticketing can increase efficiency and improve the customer experience. We are delighted to be introducing these improvements, which will make a real difference for customers."
Masabi's mobile ticketing technology is in use by transit agencies worldwide and the company's customers include; half of the UK Rail industry, Keolis in France, New York's Metropolitan Transportation Authority, Los Angeles' Metrolink, New Orleans' RTA, Boston's MBTA, and Transport for Athens in Greece.
About Masabi
Masabi is the global leader in mobile ticketing and fare collection for transportation. We deliver transit ticketing solutions that delight passengers and reduce costs for agencies and operators. Masabi's JustRide is a scalable mobile ticketing and fare management platform. Masabi works in partnership with more than twenty-five leading transit agencies and operators in the US, UK, and Europe, including; the Massachusetts Bay Transportation Authority (MBTA), Keolis, Virgin Trains, Abellio, MBNA Thames Clippers, New Orleans RTA, Metrolink in Los Angeles, Transport for Athens, and New York's MTA.