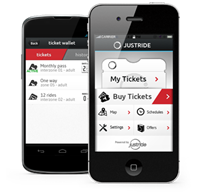 Abellio Greater Anglia has moved a step closer to eliminating paper tickets following a £3m investment in barcode readers at the ticket gates.
Passengers travelling on Abellio Greater Anglia's network are now able to buy and receive most of the train operator's tickets (via the mobile app) straight to their mobile phones and now scan them through the recently installed barcode readers at the ticket barriers.
The investment will help to reduce the use of paper tickets and also reduce queues at ticket machines and ticket gates.
Up to eight m-tickets can be purchased in one transaction using the Abellio Greater Anglia or Trainline apps. Once the tickets have been purchased, passengers simply need to scan the barcode at the ticket barriers when they travel.
Customers can buy tickets including advanced purchase and walk-up fares for any journey across the operator's network (this includes peak journeys into London Liverpool Street but these must be collected from the station ticket machine prior to travel).
This enhancement will provide increased flexibility for passengers who can purchase tickets via their mobile phones, wherever they are.
The project represents an investment of more than £3m and includes the replacement of ticket barriers at Norwich and other stations across the network featuring barcode readers. The investment includes the introduction of a new Ticket Validation database and Inspection app provided by Masabi for capturing and validating barcodes.
Andy Camp, Commercial Director, Abellio Greater Anglia, said: "We are very pleased to be one of the first operators to introduce mobile ticketing. The introduction of mobile tickets provides a wealth of benefits to passengers, and will make travelling simpler and more convenient by eliminating queues and paper tickets."
"Mobile Ticketing is revolutionising the passenger experience, making queuing at ticket machines a thing of the past. This new service allows passengers to buy tickets anytime, anyplace allowing them to simply arrive at the station and board the train," said Ben Whitaker, Co-Founder of Masabi. "We are delighted to be working with Abellio Greater Anglia to provide mobile ticketing apps, validation software and our Ticket Validation Database."
About Masabi
Masabi is the global leader in mobile ticketing and fare collection for transportation. We deliver transport ticketing solutions that delight customers and reduce cost for agencies and operators.
Masabi's JustRide is a scalable mobile ticketing and fare management platform, which allows agencies to upgrade or replace their legacy ticketing systems at a fraction of the cost of traditional options and at a minimum risk for our agency partners.
The company works with more than 22 transport operators and agencies around the world, including: Keolis, Thames Clippers, New Orleans RTA, Boston's MBTA, Las Vegas, Transport for Athens, and New York's MTA.
Masabi is backed by Fontinalis Partners, Lepe Partners, m8 Capital, MasterCard, MMC Ventures and Keolis.
About Abellio
The Abellio Greater Anglia franchise began operating on 5 February 2012. It provides intercity, commuter and rural services throughout the region including the Stansted Express service. Abellio Greater Anglia is responsible for almost 2,800 employees and operates 1,300 train services per day. It serves 132 stations and carries 1.6 million passengers a week. About Abellio Abellio is an international public transport company which delivers rail and bus services to over one million passengers every day across the UK, Germany and the Czech Republic. In the UK Abellio operates the rail companies Merseyrail*, ScotRail, Abellio Greater Anglia and the bus companies Abellio London & Surrey. In mainland Europe, Abellio operates bus and rail contracts in several federal states in Germany through Abellio Deutschland and bus contracts in the Czech Republic through Probo Bus. *In a 50:50 joint venture with Serco.