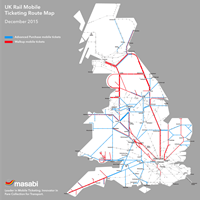 Mobile ticketing has been around for a few years, from a technical point of view, but more and more people expect to be able to travel using just their mobile phone. You can catch a flight with a mobile boarding pass, you can plan a train journey and check live departure times on the go, but until very recently on the UK Rail network, you have not been able to buy a mobile ticket on the day of travel and catch a train. Sounds strange when you think about it. But things are starting to change and we are excited to see the adoption of mobile ticketing in the UK gather pace.
In fact, we were so excited that we decided to pull together a route map showing the lines across the UK where mobile tickets are accepted, or will be by December 2015.
As the latest National Rail mobile ticketing pilot area goes live across the west midlands, a major milestone has been passed in the widening introduction of mobile ticketing technology in the UK rail industry. For the first time passengers can now complete journeys across multiple train operating companies seamlessly using a ticket held on their smartphone, purchased on the day of travel.
Over 10,000 m-Ticket journeys have already been undertaken by passengers in the northern trial areas, returning an overwhelmingly positive response. Until now the availability of mobile tickets has been limited to those fares booked in advance of travel and valid on a single operators' network only. The mobile ticketing scheme, which has been expanded to include the West Midlands, increases the availability of tickets to include same day travel (or "walk-up") fares, where each ticket is valid on multiple operators servicing a particular route. The inclusion of queue busting walk-up fares, which account for up to 60% to 70% of rail tickets bought in the UK, represents the industry's recognition that the technology can be used as a cost effective means to simplify passengers' daily travel.
With plans now in place to further expand the geographical area and range of ticket types available on mobile, the technology is increasingly becoming a ubiquitous ticketing format. National Rail's move strengthens the concept of empowering the passenger with all the conveniences of a ticket machine in their pocket and Masabi's vision of delivering innovative passenger experiences continues to be realised.
From October, the east and west northern interoperability pilot areas served by CrossCountry, First TransPennine Express, Northern Rail, Virgin Trains East Coast and Virgin Trains will team up, allowing passengers to travel, for example, from Carlisle to Newcastle via Hexham on a single flexible mTicket.
Rail Minister Claire Perry commented on the pilot scheme:
"The extension of the m-Ticket mobile ticketing scheme means better journeys for rail customers in the Midlands, adding considerable convenience for those with smartphones. With more passengers using the railways than ever before, new ticketing technologies have a vital role to play in building a 21st century railway and allow customers to benefit from improved flexibility and seamless travel."
Giacomo Biggiero, UK Rail General Manager at Masabi commented:
"We are delighted with this news and warmly congratulate the industry on the progress that has been made on mobile ticketing. For us at Masabi, this is the latest achievement in a Mobile Ticketing industry that we have been driving since day one. From working with Chiltern Railways (the earliest adopter of the m-Ticket concept) in 2007, to the ratifications of m-Ticketing barcode standards by ATOC and the successful interoperability trials on the East Coast Mainline in 2014; Masabi have been at the forefront in revolutionising the way consumers travel by rail."
The great thing is, the mobile revolution means all of us are already carrying a device in our pockets which can be a ticket machine and a travel assistant. Transport operators can easily implement mobile ticketing so that they don't have to spend any more money on ticket machines or new physical facilities. They can have infinite ticket sales capacity from the mobile phones people are already carrying.
When your mobile's told you how to ride somewhere, your mobile can also facilitate the journey, and just like getting into an Uber car and getting out the other end and never discussing money with the driver, the payments are all done for you by mobile; mobile public transit ticketing does the same thing. You are now able to make a journey on public transport and you don't have to spend any extra time facilitating a transaction, finding money or queuing to buy a ticket.
As mobile ticketing expands across the network we will continue to push for what we see as the future of ticketing for UK rail; being able to buy any ticket, at any time, to anywhere, on any route and never having to queue for a ticket. As the pace of adoption increases the question turns from 'will' mobile ticketing happen to 'when' and this is something we can all get on-board with.
About Masabi
Masabi, is the global leader in transport mobile ticketing and innovative fare collection, delivering end-to-end fare payment systems that deliver significant cost savings while revolutionising the customer experience. Masabi's JustRide system signals the end of ticket lines, lost tickets and fumbling for cash by allowing passengers to quickly and securely buy and display tickets on their mobile phones. Masabi is working with global transit agencies and retail brands, including: Virgin Trains, First Group, Boston's MBTA, San Diego MTS as well New York's MTA.