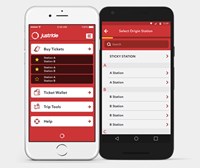 Masabi, the global leader in mobile ticketing and innovative fare collection for transportation, today announced a $12 million funding round with investment from leading international public transport operator Keolis, Lepe Partners, MasterCard, and existing investor MMC Ventures. This latest round, including corporate partners for the first time, marks a step change in Masabi's growth and speed to market.
Masabi's JustRide platform is a cloud-based, end-to-end mobile ticketing and fare collection system, in use in cities worldwide. It comprises award-winning apps for ticket purchase, display and inspection, together with back-end infrastructure for secure payments, ticket management, ticket inspection, customer service, reporting and real-time analytics. Masabi works with more than 22 transport operators and agencies around the world, including: Virgin Trains, Abellio, Thames Clippers, New Orleans RTA, Boston's MBTA, Las Vegas, Transport for Athens, and New York's MTA.Today's announcement builds on strategic partnerships with MasterCard and Keolis. MasterCard and Masabi are working together to help drive cash and its associated costs out of public transport including integrating the one-touch MasterPass digital wallet platform into JustRide. Keolis is working to include Masabi's mobile ticketing into its integrated digital offering, dedicated to delivering a new passenger experience.
"Our mission is to transform everyday transport for millions of people in cities world-wide. The combination of Masabi, MasterCard and Keolis represents three companies working at the forefront of their respective fields to develop and deploy products, making this a reality," said Brian Zanghi, CEO of Masabi. "We are delighted to welcome their investment together with that from Lepe Partners and MMC Ventures to support our operations around the world where mobile ticketing is enhancing the quality of life of urban residents and visitors and bringing about smarter, better connected cities."
Masabi's technology revolutionizes the customer experience across all modes of transport, freeing passengers from waiting in line for a ticket or scrambling for cash when paying for their fare. For cities and transport operators it significantly reduces the cost of fare collection, removing the need for costly hardware and ticket media. At the same time integrated big-data analysis and visualization tools present agency activity via a user-friendly graphical interface, allowing them to better plan, manage and optimize their services.
"Technology is revolutionising city transport and Masabi is at the forefront of this movement, working in major global cities such as New York, London and Athens," said Hany Fam, president MasterCard Enterprise Partnerships. "Making access to a city's transit system as simple as possible for residents and visitors is a key component for sustainable urban growth."
"As a leading public transport operator, one of our key priorities is to improve our passengers' travel experience, using mobile technology to make journeys seamless," said Jean-Pierre Farandou, Executive Chairman of the Keolis Group. "Through our partnership with Masabi, our PlanBookTicket solution will go up to the next level by integrating Masabi's ticket technology. The combination of our expertise will give us a step ahead both in France and around the world."
Jonnie Goodwin, founder of Lepe Partners and co-founder of Founders Forum said, "Our focus is on helping unlock growth in businesses with huge potential – and Masabi fits this exactly. This is about a real, long-term relationship with the team at Masabi as they expand across the globe, enabling them to enhance their core platform to incorporate technology that will change the face of transit payments. We are delighted to be involved in this deal."
"MMC backed Masabi from an early stage because we were convinced that their technology was going to catapult public transport ticketing from paper to mobile, giving passengers the fantastic experience that they've come to expect in every other industry. Masabi have proven us right, winning contracts with leading transit operators all across the globe. We are delighted to continue to support Masabi and welcome new investors to help us take the company to the next level of scale," said Simon Menashy of MMC Ventures.
About Masabi
Masabi is the global leader in mobile ticketing and fare collection for transportation. We deliver transport ticketing solutions that delight customers and reduce cost for agencies and operators. Masabi's JustRide is a scalable mobile ticketing and fare management platform, which allows agencies to upgrade or replace their legacy ticketing systems at a fraction of the cost of traditional options and at a minimum risk for our agency partners. Masabi is backed by Fontinalis Partners, Lepe Partners, m8 Capital, MasterCard, MMC Ventures and Keolis.