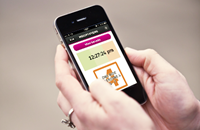 Masabi, the global leader in mobile ticketing and fare collection for transit, today announced that their mobile ticketing technology is now live with New York's MTA. Using Masabi's JustRide mobile ticketing platform, riders on Metro North Railroad and Long Island Rail Road will be able to experience a faster and more convenient way to purchase tickets and travel using their smartphones as an all-in-one ticket vending machine and ticket. The railroads' riders are now set free from cash and the hassle of waiting in line at a vending machine.
From today, passengers on MNR's Hudson Line and LIRR's Port Washington Lines will be able to use their smartphones to buy and display tickets to travel using the MTA eTix mobile ticketing app. Over the next few months more lines will be made available with full rollout completed by the end of the summer. Riders will be able to purchase tickets for both immediate and future travel through their smartphones and tablets.
Masabi will also provide its JustRide Inspect validation application which allows tickets to be scanned using standard smartphones. The validation software is in use with 11 transport agencies around the world. In keeping with Masabi's philosophy of helping reduce the cost of fare collection, it allows tickets to be inspected at a fraction of the cost of using traditional options. Masabi is the pioneer in transport mobile ticketing and innovative fare collection technology, with active deployments in a growing roster of major cities around the world that already includes Los Angeles, Boston, New Orleans, Athens, and London.
"Around the world more and more major cities are turning to JustRide to improve the public transit experience. The introduction of mobile ticketing at New York MTA will be the largest deployment of its kind and we are delighted to have been selected to partner with the MTA," said Brian Zanghi, CEO of Masabi. "This is a landmark project that will change the way riders travel in the New York region, with passengers able to buy tickets anywhere, at any time, with a few taps."
MasterCard, a recent investor in Masabi, commented: "Masabi is a company at the forefront of smart city innovation, simplifying people's access to mass-transit and facilitating sustainable urban growth," said Hany Fam, MasterCard Enterprise Partnerships. "We are delighted to be working with and supporting Masabi as they deploy their technology on some of the world's busiest commuter rail services."
The eTix app will be available for all lines on the Long Island Rail Road and Metro-North Railroad in the following weeks:
June 30: MTA eTix available on LIRR Port Washington Branch & Metro-North Hudson Line
Week of July 25: MTA eTix becomes available on Metro-North Harlem Line
Week August 22: Full system wide implementation of MTA eTix, as the app becomes available on the rest of LIRR and Metro-North's New Haven Line
About Masabi
Masabi is the global leader in mobile ticketing and fare collection for transportation. We deliver transit ticketing solutions that delight passengers and reduce costs for agencies and operators. Masabi's JustRide is a scalable mobile ticketing and fare management platform. Masabi works in partnership with more than twenty-five leading transit agencies and operators in the US, UK, and Europe, including; the Massachusetts Bay Transportation Authority (MBTA), Keolis, Virgin Trains, Abellio, Thames Clippers, New Orleans RTA, Metrolink in Los Angeles, Transport for Athens, and New York's MTA.