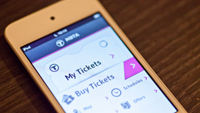 Masabi, the global leader in mobile ticketing and fare collection for public transportation, today announced that National Express Bus has deployed its end-to-end mobile ticketing system, JustRide. The system has launched across the West Midlands allowing students to purchase monthly travel passes on their smartphones, providing a new option in addition to the termly passes which are purchased in person from existing sales channels. The move will save students time and allow for easier travel budgeting.
Masabi's JustRide is a cloud-based, deployment-proven, end-to-end mobile ticketing and fare collection system. It comprises award-winning apps for ticket purchase, display and inspection together with back-end infrastructure for secure payments, ticket management, customer service, reporting and real-time analytics. JustRide has previously been successfully deployed in cities around the world including; Athens, Boston, Los Angeles and London and has recently successfully launched with New York's MTA.
As a part of the National Express deployment Masabi will be using Mastercard Gateway Payment Services (MPGS) to enable simple, safe and secure in-app digital payments. MPGS seamlessly provides a gateway between e-commerce solutions like Masabi's JustRide and the range of global acquirers allowing for even faster time to market for operators like National Express. Updates to the application will also make purchasing tickets even easier by allowing passengers to pay for tickets using digital wallets such as Masterpass, the digital wallet from Mastercard.
Daljit Kalirai, Head of Sales at National Express, said: "As part of the West Midlands Bus Alliance, we have publicly promised to encourage more people to travel on our buses by making ticketing smarter. By using Masabi's technology, we are making every day journeys simpler for our student customers, saving them time and helping them to manage their money."
"Our work with bus operators in the United States and Europe has demonstrated that mobile ticketing can increase efficiency and improve the customer experience," said Brian Zanghi, CEO of Masabi. "By introducing a mobile ticketing solution, National Express will benefit from an effectively infinite sales capacity, allowing them to focus on providing the best possible service to passengers. It's fantastic to see technology being used in such a way and I'm sure students in the area will be thanking National Express for the initiative."
About Masabi
Masabi is the global leader in mobile ticketing and fare collection for transportation. We deliver transport ticketing solutions that delight customers and reduce cost for agencies and operators. Masabi's JustRide is a scalable mobile ticketing and fare management platform, which allows agencies to upgrade or replace their legacy ticketing systems at a fraction of the cost of traditional options and at a minimum risk for our agency partners. Masabi is backed by Fontinalis Partners, Lepe Partners, m8 Capital, MasterCard, MMC Ventures and Keolis.