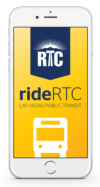 The Regional Transportation Commission of Southern Nevada (RTC) recently launched its new smartphone app, rideRTC, which enables transit customers to buy fares, plan trips, and find bus stops, all at their fingertips. This easy-to-use free app is available for use on Apple and Android devices.
RTC partnered with Masabi, the global leader in mobile ticketing and fare collection solutions, for transportation agencies to deliver rideRTC. The app is based on Masabi's JustRide mobile ticketing platform which is used by more than 25 global transportation agencies and operators such as London's Thames Clippers, Preston Bus, New Orleans' RTA, Boston's MBTA, Transport for Athens, Los Angeles' Metrolink and New York's MTA.
With the new rideRTC app, customers can securely purchase transit passes for airport, Las Vegas Strip and Downtown routes, as well as residential trips with reduced fare tickets available for seniors (60-plus years of age), disabled riders and children (6-17 years of age). Mobile tickets are activated on the customer's smartphone and validated by showing the driver. By the end of the year, all RTC transit vehicles will also have an electronic reader to validate mobile passes.
"Mobile ticketing is all about increasing convenience for customers and efficiency for transit agencies. By using Masabi's JustRide platform Riders in Las Vegas can now buy tickets anytime, anywhere while at the same time significantly reducing boarding times," said Brian Zanghi, CEO of Masabi. "We are delighted to be working with the RTC to provide this innovation to riders in Las Vegas."
To introduce the new app to riders, the RTC deployed customer service representatives and transit ambassadors to personally interact with customers, encouraging them to download the app and showing them how to use it. The RTC also partnered with AT&T to offer customers the opportunity to win a $150 gift card for downloading the rideRTC app. Each month, everyone who downloads the app will be entered into a drawing to win a gift card. The monthly contest runs from Nov. 1 through April 30, and no purchase is necessary.
With a majority of transit riders using smartphones, rideRTC offers an easy and convenient way to buy tickets and plan a transit ride in the Las Vegas area. To assist customers with their transit trip planning, rideRTC is integrated with the industry leading TransitApp, which is used by transit riders across the country. The app enables users to:
Locate transit routes and stops near their current location
Access upcoming arrival times for bus routes
Determine real-time location of buses
Plan trips that also include different forms of transportation, such as the new RTC Bike Share program in downtown Las Vegas and transportation network companies, like Uber and Lyft
"The RTC carried 65 million passengers last year, and a majority of them use smartphones," said Tina Quigley, RTC General Manager. "We partnered with an international leader in mobile transportation ticketing solutions to create an app that makes every-day life more convenient for our customers."
Quigley noted that rideRTC is not replacing ticket vending machines, vehicle fare boxes, or existing paper passes. "It's simply another convenient option for RTC customers that puts purchasing passes and planning trips in the palm of their hands," Quigley added.
As a part of the rideRTC deployment RTC is using Mastercard Gateway Payment Services to enable simple, safe and secure in-app digital payments. Updates to the application will make purchasing tickets even easier by allowing passengers to pay for tickets using digital wallets such as Masterpass, the global digital payment service from Mastercard.
About the RTC
The RTC is the transit authority, transportation planning organization and regional traffic management agency for Southern Nevada. The RTC's vision is to provide a safe, convenient and effective regional transportation system that enhances mobility and air quality for citizens and visitors. The RTC encourages residents and visitors to use a variety of transportation choices to help reduce traffic congestion, clean the air and improve the quality of life in Southern Nevada.
About Masabi
Masabi is the global leader in mobile ticketing and fare collection for transportation. We deliver transit ticketing solutions that delight passengers and reduce costs for agencies and operators. Masabi's JustRide is a scalable mobile ticketing and fare management platform. The company works in partnership with more than twenty-five leading transit agencies and operators in the US, Europe and around the globe, including; the Massachusetts Bay Transportation Authority (MBTA), Keolis, National Express Bus, Virgin Trains, Abellio, MBNA Thames Clippers, New Orleans RTA, Metrolink in Los Angeles, Transport for Athens, and New York's MTA. With offices in Boston and London, Masabi's investors include MasterCard and Keolis.