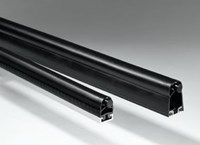 The R+T trade fair takes place in Stuttgart from 24 - 28 February 2015. Once again, the focus will be on many of innovations in roller blinds, doors and sun protection systems. With its SP 37 and SP 57 sensor profiles, Mayser will showcase its new range of flexible DIY Safety Edges for doors.
A hot topic at the trade fair, which this year celebrates its 50th. anniversary, is building safety. With its tried-and-tested obstacle detection systems, Mayser has a longstanding record of protecting people in the vicinity of automated doors, gates and windows. Now the safety technology specialist has expanded its range of Safety Edges for doors to include a number of DIY sensor profiles.
Unlike Mayser Safety Edges, which feature a sensitive contact strip encased in a rubber profile, the SP 37 and SP 57 are co-extruded sensor profiles. This design makes handling easier and increases flexibility. There is also a clear advantage on site, because the sensor profiles can be combined with variable aluminium profiles and end caps and instantly fixed directly onto doors and gates, creating fully functioning Safety Edges. The sensor profiles stand out due to easy handling and quick response time as well as superior watertightness and cost effectiveness. DIY production of Safety Edges with Mayser sensor profiles requires no adhesives. Instead, the parts lock together mechanically. This results in Safety Edges with a high watertightness rating of IP67.
Mayser is already developing more new members of the SP family. With various geometries, overall heights and fixing methods, it aims to make these flexible anti-pinch sensors capable of being suitable for all sorts of applications on doors and gates.
About Mayser Safety Technology
As one of four divisions of Mayser GmbH & Co. KG, an internationally successful group of companies with over 200 years of tradition, Mayser Safety Technology has developed into Europe's leading manufacturer of tactile sensors for safety technology. Mayser is a partner in many industries, whose requirements for tailor-made safety concepts have increased with growing automation of many areas of life and work. Sensors made by Mayser are used to ensure safety on industrial production facilities, on automatically controlled doors, gates and windows, on bus and train doors, in stage, furniture and medical technology as well as in electrically operated tailgates, sliding doors, vent windows and sun roofs in cars.