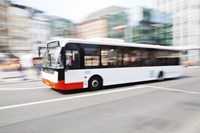 Highlighting the progress made under two years of the Fiscal and Management Control Board's (FMCB) leadership of the MBTA, MassDOT Secretary and CEO Stephanie Pollack and MBTA Interim General Manager Steve Poftak today marked the delivery of 345 new buses to the MBTA's service fleet.
The $283 million in orders, placed in 2015, will deliver 375 total new buses by next month to the MBTA's fleet, including 156 diesel-electric hybrid buses, 175 compressed natural-gas (CNG) buses, and 44 sixty-foot, articulated buses, helping to replace the entire fleet of Silver Line vehicles serving the busy Washington Street corridor between Roxbury and downtown Boston.
The accelerated capital delivery and targeted investments in the MBTA's core system, infrastructure and fleet vehicles represent the larger reform efforts and focus of the FMCB installed by Governor Baker in the summer of 2015, having since met nearly 100 times to review over 500 presentations, while improving the MBTA's operating budget stability and system-wide modernization. In May, Governor Baker announced the extension of the FMCB's governance through 2020.
"In two short years, the hard working volunteer members of the FMCB and leadership at MassDOT and the MBTA have made important strides in delivering the reforms and upgrades to make our Commonwealth's public transit system more accountable to taxpayers and riders," said Governor Baker. "With 375 new buses and 428 new cars joining the fleet and critical infrastructure improvements including over 45 miles of new third rail and heating infrastructure, the MBTA is making the investments that ensure riders have the more reliable and dependable service they deserve."
"The FMCB, MBTA, and its commuter rail partner Keolis have continued to make the reforms and upgrades necessary to improve service for riders and the communities served by the core system," said Lieutenant Governor Karyn Polito. "With over 130 new assistant conductors, 80,000 new rail ties, new stations, and double-tracking infrastructure, riders from Worcester and Framingham to the Fitchburg and Fairmount lines will see improvements that provide new options and reduce heat restrictions and delays."
"With the support of Governor Baker and Lt Governor Polito, MassDOT and the MBTA are making smart short- and long-term investments in the core infrastructure to improve the health of the MBTA's system," said Secretary Pollack. "The FMCB has taken action to modernize the fleet of buses and rail vehicles in order to deliver more reliable service to our customers."
"Delivering quality bus service is an integral part of the MBTA's multi-modal system, connecting people to jobs, school, shopping, and recreation," said Interim General Manager Poftak. "These state-of-the-art vehicles incorporate proven technology to deliver reliable service, provide significantly better fuel economy, and offer better accommodations for customers with mobility challenges."
"While we still have a lot to do and, like our system, will continue to face foreseen as well as unexpected problems along the way, we believe we can report real progress," said FMCB Chairman Joe Aiello. "Customers are experiencing some improvements and much greater ones are coming as new vehicles, upgraded infrastructure, and modernized fare collection and other systems come on line."
Operating Budget Stability: The FMCB's focus on reform, controlling the rate of internal cost growth and maximizing revenue growth has reduced a staggering forecasted budget deficit of $335 million in Fiscal Year 2018 to $30 million, curbing operating expense growth to the lowest rate in more than 15 years and reinvesting savings in capital spending. To save costs, the FMCB has rebid key vendor contracts, leveraged the statewide contracts system, streamlined headcounts, reduced operations and police overtime, refinanced available debt, contracted warehouse and cash-handling operations, and renegotiated a "win-win" contract with Boston Carmen's Union Local 589. Through rebidding parking and advertising contracts, modern new digital panels in subway stations, and bus and subway car "wrapping," the MBTA is forecasted to maximize own-source revenue by over $74 million in FY'18.
Modernization: The FMCB has also prioritized bringing the MBTA's operating systems into the 21st Century, phasing introduction of an upgraded automated fare collection (AFC) system through a competitive public-private partnership to improve convenience for riders, and a first-of-its-kind partnership with Uber and Lyft to provide paratransit users of The RIDE with flexible, on-demand transit options. The MBTA is also modernizing its payroll and route planning systems to provide electronic efficiency for employees.
Improved Capital Delivery: The MBTA has accelerated the pace of delivering major capital investment projects and state-of-good-repair (SGR) work, targeting the core system's operational performance. Total SGR construction contract awards more than tripled in Fiscal Year 2017 (FY17) over FY's 14-16, exceeding $700 million or 50% more than the average annual SGR spending over the last 5 years. As the capital delivery team continues to expedite key projects like Red and Orange Line infrastructure work to support the delivery of 404 new cars, including the full replacement of the Red Line fleet, the MBTA is on track to invest more than $6 billion over the next five years. Nearly $1.3 billion will be invested in the rehabilitation and replacement of existing passenger vehicles over the next five years, while continued investments and progress have been made on projects like the Green Line extension, Silver Line service into Chelsea and the new Blue Hill Avenue Station on the Fairmount Line.

Service Improvements: The replacement of the Red Line fleet is anticipated to boost ridership capacity by 50%, achieve 3-minute headway targets as schedules are adjusted, and facilitate the implementation of a life-cycle maintenance program that results in better maintained vehicles and fewer service interruptions. On Commuter Rail, Keolis and the MBTA have worked to bring on over 130 additional assistant conductors, de-stress and eliminate heat restrictions on the Fitchburg Line, and replace over 80,000 rail ties, introduce double-tracking, and open the new Boston Landing Station on the Framingham/Worcester Line.
Winter Resiliency: Over $100 million has been invested in new equipment and 23.5 new miles of third rail, 21.5 new miles of heating infrastructure, and 3,600 linear feet of snow fencing to make the system more resilient following the record-breaking winter of 2015 that disrupted service for long periods of time.
About The Massachusetts Bay Transportation Authority
The Massachusetts Bay Transportation Authority (MBTA) is the authority than manages and runs public transit in the Massachusetts Bay Area.