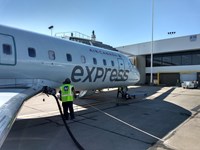 Air Canada has awarded Menzies Aviation with two new contracts and 18 renewals for Into-Plane Fuelling services in North America.
Contract renewals were secured for five years beginning in May 2018 while contract gains were awarded at Ronald Reagan Washington National Airport and Raleigh–Durham International Airport. This represents over 24,000 flights fuelled annually.
Gene Roy, Director of Sales, Into-Plane Fuelling, North America, said: "Being awarded these contract renewals and contract gains is testament to the extraordinary efforts of our employees to deliver high quality service to Air Canada in North America and across the Menzies network."
About Menzies Aviation
Menzies Aviation is an independent, time-critical logistics specialist serving the airline industry.