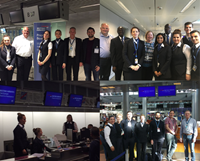 Menzies Aviation took their first steps into the German market at the end of March, with Passenger services operations commencing at four of the country's busiest airports (pictured clockwise from top left): Düsseldorf, Frankfurt, Hamburg and Munich.
Our first airline customers are British Airways at all four airports (including BA CityFlyer in Düsseldorf and Frankfurt) and Sun-Air of Scandinavia at Düsseldorf and Munich. This exciting opportunity with British Airways comes on the back of Menzies' history of excellent service to this key customer.
Nick Barlin, Customer Service Manager, British Airways & BA CityFlyer, Germany, said:
"In selecting Menzies Aviation to handle our brand, we knew we were choosing a company with a similar heritage to our own and one which would uphold our values and brand, which has developed over many years in Germany.
"The transition has been seamless and the hard work put in by the Menzies team gives me confidence in our relationship moving forward. I look forward to watching Menzies grow in Germany in the coming years."
Menzies Aviation will now work to strengthen customer relationships in Germany and focus on winning additional business in the future.
About Menzies Aviation
Menzies Aviation is an independent, time-critical logistics specialist serving the airline industry.