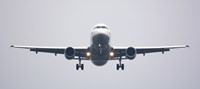 May and June marked an increase in the customer portfolio for Menzies Aviation's Scandinavian stations, welcoming China Eastern to Stockholm Arlanda and Siberia Airlines to both Stockholm and Copenhagen Airports.
China Eastern inaugurated a new direct route from Shanghai Pudong Airport to Stockholm Arlanda on 16 June, providing connections to destinations in Asia. The airline is China's second largest airline by passenger numbers, and operates both domestic and international flights.
In addition, Menzies welcomes Siberia Airlines' first S7 Airlines opened two new routes between St Petersburg and Scandinavia flights to Stockholm and Copenhagen, connecting the two airports with St Petersburg, Russia. This enables traffic growth between Scandinavia and Eastern Europe. Also known as S7, the airline will operate two flights weekly from both airports. The airline is Russia's largest domestic airline and operates throughout Europe, Asia and the Middle East.
Miguel Gomez, Senior Vice President Continental Europe, said: "Contract wins such as Siberia Airlines and China Eastern continue to enforce our strategic expansion throughout the Scandinavia region. Thanks to the Menzies teams at Stockholm and Copenhagen for their hard work and continued excellence."
About Menzies Aviation
At more than 200 airport locations across 6 continents, Menzies Aviation offer landside and airside services tailored to their customers' needs; timed to their schedules; and delivered by teams with the knowledge, tools and passion to set standards rather than chase them.