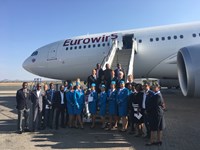 The team in Hosea Kutako International Airport have successfully won the handling contract for Eurowings' new A330 flight to Cologne Bonn Airport.
Eurowings GmbH is a German airline headquartered in Düsseldorf and a subsidiary of the Lufthansa Group. The airline plan to increase the two weekly flights to four when they will add a second route from Münich in May 2018.
Russell Doane, SVP AMEI, said: "Well done to Wayne Leach, Windhoek Station Manager, and his team for successfully adding another carrier to their ever growing portfolio of customers, underlining the fact that Menzies Aviation are the number one handler of choice at Namibia's largest airport."
About Menzies Aviation
Menzies Aviation is an independent, time-critical logistics specialist serving the airline industry.