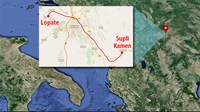 MERMEC Group has signed a multi-million contract with Wiebe Holding GmbH & Co. KG for design, production, delivery, installation, testing and commissioning of all signalling and telecommunication equipment, including ETCS L1 technology. It will be deployed along the Macedonian railway line, currently under rehabilitation, connecting Kumanovo with Beljakovtse.
The Kumanovo – Beljakovtse section, whose construction works started on May 2014 from level crossing Lopate to the station Supli Kamen, is a 32-km long railway line along the Corridor VIII. The new railway line will generate benefits for users in passenger and freight traffic mainly thanks to shift in passenger and freight traffic from road to rail but also in terms of shortening of transport distances and savings of travel time.
The contract includes supply of Electronic Interlocking Systems, Centralized Train Control, ETCS Level 1 wayside equipment, hot-box detectors, telecommunication network and operational test of the line.