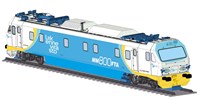 A 10-year contract has been signed for the provision of advanced inspection facilities for 5,960 km of the Finnish rail line starting in 2019. MERMEC will provide the technology and skilled personnel for the measurement campaigns planned by the Finnish Transport Agency.
The Finnish Transport Agency (FTA) has awarded MERMEC with the provision of measurement and inspection services for the entire national rail network, which stretches for 5,960 km (of which 620 are double and multiple lines). The contract, which includes the provision of services starting from January 2019, has a duration of 10 years, renewable for an additional five years.
Over the next two years, MERMEC will construct a measuring train and get the certification in compliance with European standards. The special measuring vehicle, a bi-modal diesel-electric train able to travel at 160 km/h, will be equipped with a series of automatic measurement and inspection systems to identify any critical issues that may affect the safety of movement and to evaluate the infrastructure's operating conditions for efficient predictive planning of maintenance and renewal work.
The measuring vehicle will be designed and suitably equipped so that it can be used also on the entire national network of high-speed lines. These lines connect the main urban centres in the south of the country up to the far north where the temperature is extremely cold and there are extreme weather conditions.
The MERMEC team of specialists, who will handle the project on site, will have to plan the vehicle runs in coordination with the FTA, as well as perform the measurement campaigns, process the data in an integrated manner, produce periodic reports on the work progress of and critical issues. The reports will contain data, analysis, classification of critical issues, trends and projections that will enable the efficient and effective planning of railway infrastructure maintenance.
MERMEC will be responsible for ordinary and extraordinary maintenance of the measuring vehicle and its rich supply of optoelectronics, which includes systems able to measure track geometry, rail profile, rail corrugation, switches, ride comfort, catenary geometry and contact wire wear. Measurement systems will be integrated with a new high-performance ultrasound system, which will be used to identify any internal defects of the rail, which could be aggravated by the extreme temperature fluctuations, typical of the Finnish climate.
About Mermec Group
MERMEC is a member of the Angelo Investments Group which operates in different hi-tech sectors through companies such as Blackshape (Aviation) and Sitael (Aerospace), Dreamslair (Cloud Computing).
Founded as a joint-stock company in 1988, MERMEC completed a series of acquisitions in Italy, France and the United States during the first half of 2008. These led to the creation of an international corporation with offices and premises in 14 countries (USA, Spain, France, UK, Switzerland, Norway, Italy, Macedonia, Morocco, Turkey, India, South Korea, China, Australia).
With a unique product portfolio of measurement systems and vehicles, decision support tools and automatic train protection technology, MERMEC helps world railways and rapid transits run safe, efficient and reliable networks; while always assuring that their passengers or goods enjoy superior service and a pleasant journey wherever they go.
About Finnish Transport Agency (FTA)
The Finnish Transport Agency is an expert organisation responsible for Finland's roads, railways and waterways and for the overall development of Finland's transport system. FTA operates under the jurisdiction of the Ministry of Transport and Communications. FTA acts in a responsible, effective and innovative way to optimise the effectiveness of the transport system, improve traffic safety and enhance sustainable development in all regions. The Agency was created on 1 January 2010 and has its origins partly in the Finnish Rail Administration (RHK) and partly in the previous Finnish Maritime Administration and the Finnish Road Administration. The Finnish Railway Administration (RHK) was previously responsible for the management of rail transport infrastructures and currently is responsible for the design, construction, maintenance and traffic control on the Finnish rail network. The main user of the Finnish rail network is the VR Group.
More info on http:// www.liikennevirasto.fi/web/en