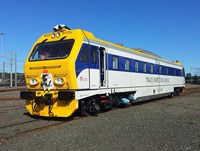 MERMEC has been awarded a contract to supply and commission a Roger 800 track recording car to the Public Transport Authority of Western Australia (PTA). The vehicle will be equipped with several measuring and inspection systems and used to monitor the Perth metropolitan railway infrastructure.
The Public Transport Authority of Western Australia (PTA) has awarded to MERMEC a contract for the supply of a multi-purpose, self-propelled ROGER 800 measuring vehicle that will be used to monitor and drive preventive maintenance activities on a railway network counting more than 400 km of metropolitan lines.
In order to offer the PTA a comprehensive perspective on the behaviour of its railway assets, MERMEC will develop a customised version of its recording car that will then be equipped with several measuring and inspection systems, all seamlessly integrated and perfectly interoperable with each other. The measuring vehicle will be entirely built and assembled in Italy and it will undergo dynamic testing on the PTA's track infrastructure after the installation of the narrow gauge bogie (1,067 mm - 3 ft 6 in) in Western Australia.
PTA is one of our premium Australian customers having chosen MERMEC technology for understanding the performance of its railway infrastructure. Customer base now includes some of the most important public and private companies operating railway infrastructure in Australia: Aurizon, BHP Billiton, Brookfield Rail, John Holland, Metro Trains Melbourne, Rio Tinto, Sydney Trains and Speno Australia. MERMEC takes care of its customer base through its subsidiary established in 2013 and based in the Sydney metro area.
About PTA
PTA is a Western Australian statutory authority established in July 2003. It aims to provide customer-focused, safe and cost-effective passenger transport services. The Public Transport Authority of Western Australian (PTA) is responsible for rail, bus and ferry services in Perth metropolitan area through its brand Transperth; public transport services in regional centres through Transwa and Regional Town Bus Services as well as providing transport assistance to regional school students through School Bus Services. The Network and Infrastructure division of the PTA is responsible for managing and maintaining WA's metropolitan railway infrastructure, and for protecting the long-term viability of the State's freight rail corridor and infrastructure.
About MERMEC
MERMEC is a member of the Angelo Investments Group which operates in different hi-tech sectors through companies such as Blackshape (Aviation) and Sitael (Aerospace), Dreamslair (Cloud Computing).
Founded as a joint-stock company in 1988, MERMEC completed a series of acquisitions in Italy, France and the United States during the first half of 2008. These led to the creation of an international corporation with offices and premises in 14 countries (USA, Spain, France, UK, Switzerland, Norway, Italy, Macedonia, Morocco, Turkey, India, South Korea, China, Australia).
With a unique product portfolio of measurement systems and vehicles, decision support tools and automatic train protection technology, MERMEC helps world railways and rapid transits run safe, efficient and reliable networks; while always assuring that their passengers or goods enjoy superior service and a pleasant journey wherever they go.