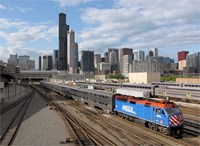 The Metra Board of Directors today formally called on Congress to extend the Dec. 31, 2015 deadline to install Positive Train Control (PTC), agreeing with a staff analysis that in the current regulatory environment Metra will not be able to legally operate beyond that date.
Although Metra and the rest of the U.S. railroad industry have invested significant time and money and have made significant progress on PTC implementation, they have also warned for years that the deadline can't be met due to a variety of operational, technological and financial challenges. Congress, however, has yet to act. In a resolution approved today, the Board again urged Congress to extend the deadline to a date that realistically accounts for the numerous challenges.
If Metra did choose to operate without PTC in place, it would be subject to potential FRA enforcement actions brought by the Department of Justice, including substantial civil penalties, issuance of compliance or emergency orders, and injunctions or criminal penalties, according to an analysis by Metra's Law Department. The analysis concluded that Metra will be unable to legally operate its trains beyond the deadline.
"This Board will do all it can to avoid this crisis within the confines of the law as it exists today and continue to work with members of Congress on legislation that is needed to extend this unattainable deadline," said Metra Board Chairman Martin J. Oberman. "In the meantime, on advice of counsel, Metra cannot operate any of its trains under current law as of midnight on Dec. 31, 2015."
If Metra is unable to operate beyond December, it will work to ensure an orderly shutdown of its system and communicate with its customers with sufficient time for them to consider the effects of the shutdown, the resolution also states. Metra will also work with its transit partners in the Chicago area to provide alternative transportation but recognizes that feasible alternatives do not exist for the vast majority of Metra customers.
PTC is a computerized system that prevents certain types of train-to-train collisions, helps avoid derailments and other accidents caused by excessive speed and increases safety for workers. The system integrates GPS, wayside sensors and communications units and a railroad's centralized dispatching system. Together, these components track trains, convey operating instructions and monitor the crew's compliance. PTC will automatically stop a train if the system detects that a violation or equipment failure is about to occur.
PTC is not off-the-shelf technology but had to be designed from the ground up, and certain components were not immediately available. There also have been limitations on design expertise and necessary equipment. The onboard software is still being developed, and a final release date is not known at this time. It has not yet been determined whether there is enough radio spectrum available in Chicago for the PTC needs of all of the railroads that operate here. In addition, PTC systems adopted by various railroads must communicate with each other, so trains can move seamlessly between tracks controlled by different systems. Achieving that interoperability in Chicago is especially complicated, since the region has the most complex railroad network in the country. Finally, this unfunded mandate is expected to cost Metra more than $350 million, equal to 100 percent of its federal funding for 2½ years.
Metra's current timeline for full PTC implementation is 2019, although the agency expects several lines to be completed before that date.
About Metra
Metra is one of the largest and most complex commuter rail systems in North America, serving Cook, DuPage, Will, Lake, Kane and McHenry counties in Northeastern Illinois. The agency provides service to and from downtown Chicago with 241 stations over 11 routes totaling nearly 500 route miles and approximately 1,200 miles of track. Metra operates more than 700 weekday trains, providing about 300,000 passenger trips each weekday.