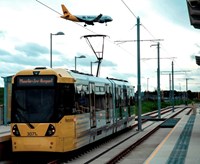 Soaring passenger numbers have seen 1.88 million journeys made on Metrolink's multi award-winning Manchester Airport line in its first year.
The 15-stop line, which was opened more than a year ahead of schedule, celebrates its first birthday today (Tuesday 3 November).
The success of the £400 million line – one of the largest locally-funded transport projects of its kind in the country – was recently recognised during the industry award season with FOUR wins at different national award ceremonies.
The line – which required close to 3.5million hours of work to deliver – has brought with it economic growth and opportunity that stretches far beyond the nine miles of track that run through the heart of south Manchester.
Wythenshawe town centre has prospered since it opened, welcoming thousands more visitors into the town every week.
Town Centre Manager, Jeff Jackson, said: "Wythenshawe is a great place to work and visit: the people are friendly and it has a great array of shops and other facilities.
"Since the line opened we've seen footfall increase by between eight and 10 thousand people a week and this has attracted new businesses to the centre.
"With Metrolink and the new interchange people have got accessibility to the Airport and wider Manchester area, offering them increased job and leisure opportunities."
Almost 60km of rail track was used to construct the line, which uses 670 overhead poles to power the trams. Twenty-eight tramway/highway junctions were either newly installed or modernised; a 337 metre-long viaduct was constructed over the River Mersey and two 580 tonne motorway bridges were installed over some of the busiest sections of urban motorway in the country.
Local residents have also benefited by the so-called 'Metrolink effect', which has seen house prices near to the line increase well above the national average.
An innovative scheme to recruit staff local to the area by Metrolink's operator, RATP Dev, was also an unprecedented success, with 12 employees going on to work as part of the wider customer service team at Metrolink.
One such employee and local councillor for Sharston, Madeleine Monaghan, said: "Recruiting locally for Metrolink jobs was such a fantastic initiative and the Airport line has brought so much to the area.
"As well as being able to travel from A to B – and the tourism element of being able to travel to the airport and city centre – you can't underestimate the impact the Airport line has had on the area.
"There are so many new businesses in the area that have created employment opportunities and up-skilled residents, and from working on the line I've had so many first-hand accounts from people who have told me just how much it's improved their lives."
Peter Cushing, TfGM's Metrolink Director, said: "The Airport line has been hugely successful, delivering improved public transport and access to employment, business, retail and leisure opportunities, as well as education and healthcare.
"Part of its charm and success stems from the recruitment drive that ensured jobs went to local residents: people with knowledge and passion for their communities as well as the Metrolink network that serves them.
"Our success is ultimately down to our customers and staff."
TfGM Committee Chair, Councillor Andrew Fender, added: "We've had nothing but positive feedback from residents' right along the Airport line, who've seen their local communities rejuvenated.
"Businesses are thriving in outlets that at one time stood empty. Home owners have seen the value of their homes soar and job opportunities are increasing all the time. All this is testament to the fact that the successful delivery of major projects like the Airport line goes well beyond simply helping people get from A to B."
Chris Coleman, Managing Director, Metrolink RATP Dev, which operates the network on behalf of TfGM, said: "We were very clear from the start that we wanted to recruit local people from the Wythenshawe area for the new customer service roles on the Airport line.
"We worked with Wythenshawe Community Housing Group as part of their Talent Pool programme which saw interest from 250 local residents for the positions.
"We achieved unprecedented success with the recruitment programme which has not only meant employment for Wythenshawe residents, but has also allowed us to use the local knowledge of our new employees to provide even better customer service to our passengers.
"As a result of the success of the project, our new recruits have now gone on to form part of the bigger customer service team here at the company, including a new customer ambassador project which will see them provide customer service at key city centre stops."
The Manchester Airport via Wythenshawe line was delivered by the MPT consortium, formed of Laing O'Rourke, VolkerRail and Thales.
Greater Manchester's Metrolink network is one of the most successful light rail systems in the UK, carrying over 32 million passengers every year. The opening of the Airport line brought the number of Metrolink stops across Greater Manchester to 92, spanning some 60km.
About Transport for Greater Manchester
Transport for Greater Manchester (TfGM) is all about public transport – improving what's already there and planning for the future.
Around 270 million journeys are made on public transport in Greater Manchester every year – that's more than 700,000 a day – and we play a part in supporting every single one.
It is our job to promote public transport and provide the information and facilities people need to make their journey as quick, easy and safe as possible.
We are involved with all modes of transport - buses, trams and trains and cars – and we also play an important role in road safety, traffic signalling and congestion performance. We are also involved in smarter travel choices such as walking and cycling as well as Local Link door-to-door bus services and Community Transport.
These are exciting times for public transport services in Greater Manchester. You will already be familiar with one of Manchester's iconic features – the Metrolink trams – but did you know that we own them and are working on a £600 million expansion that includes new routes, new trams and a new look for the network?
And that's just for starters! In total we are investing over £1.5 billion to improve the travel experience across Greater Manchester, from new state of the art bus stations, to smart ticketing. This really is the right time to join TfGM.
The business areas within TfGM are varied, here are a few examples:
Human Resources
Finance
Legal
Planning
Communications/Media/Design
Operational areas, customer facing
Bus/Rail/Metrolink
Environment
Information Services (IS)
Project Management