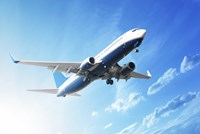 Minister for Transport, Tourism and Sport, Shane Ross TD, announced today that his Department is allocating €2.7 million in funding support for the four regional airports in Donegal, Ireland West Airport Knock, Kerry and Waterford.
Minister Ross said: "These Exchequer grant allocations are being made under the Regional Airports Programme 2015-2019, which was approved last year by the EU Commission and administered by my Department. The funding support that I am announcing today will assist with capital investment on various projects at the four regional airports over the coming months in the areas of safety and security such as CCTV monitoring equipment, repairs to taxiways, aprons and perimeter roads, upgrades to electrical systems and winter-ready equipment."
The grants announced today are in addition to a preliminary round of grant allocations totalling €1.2 million for the airports that was announced in April of this year, bringing the total Exchequer allocation for capital projects under the Programme for 2016 to €3.9 million.
The breakdown of the allocations announced today are as follows:
| | |
| --- | --- |
| Airport | Grant Allocation (€) |
| Donegal | 341,000 |
| IWAK | 1,314,000 |
| Kerry | 205,000 |
| Waterford | 870,000* |
| TOTAL | 2,730,000 |
The National Aviation Policy which was published last August acknowledges the role played by the regional airports in promoting a level of international connectivity to support the tourism and business sectors in their regions and confirms that these airports are being given the opportunity to grow to a viable, self-sustaining position. The grant allocations announced today under the Regional Airports Programme is further testimony of the Government's support for necessary safety and security measures at these airports where appropriate.
"The extra €10 million in capital funding that is provided in the Programme for Government will begin to come into play from next year onwards and this will enhance my Department's ability to further support the four regional airports. This will bring to €38 million (was €28m) the amount provided in the Capital Plan 2016-2022 for supporting the airports in the areas of safety and security" Minister Ross said.
*The grant allocation for Waterford will be confirmed when the resumption of scheduled passenger services has been secured by airport authorities. The airport authorities in Waterford are in discussions with a number of airlines with a view to securing a replacement carrier for VLM Airlines which filed for bankruptcy protection in Belgium in June.
About The Department of Transport, Tourism & Sport Ireland
The Department of Transport, Tourism and Sport was established in 2011. It has a key role in delivering highly critical aspects of Ireland's economic activity including further development of our transport infrastructure and services and the support and enhancement of our significant tourism and sports sectors.