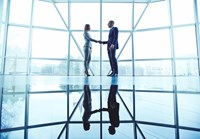 Finnish Minister of Transport and Communications Anne Berner will meet Doris Leuthard, Switzerland's Head of the Federal Department of the Environment, Transport, Energy and Communications, in Bern on 29 April.
In the meeting, Berner and Leuthard will discuss the digitalisation of transport and the Mobility as a Service concept. Finland aims to be one of the top countries in the provision of digital transport services. In order for this goal to be achieved, new kinds of service concepts in the transport sector and technology-neutral legislation are required. Legal provisions on transport market are at the moment being brought together under one act, the Transport Code.
Digitalisation is on the meeting's agenda also in a larger scale. Berner and Leuthard will discuss Finland's and Switzerland's digitalisation strategies and the EU's Digital Single Market. The promotion of digitalisation has a significant impact on the employment, growth and competitiveness in the entire European Union.
In Finland, the Government key project on creating a growth environment for digital business focuses on the great changes and possibilities brought by digitalisation. The Transport Code will be drafted as part of this key project.
The Government has adopted an Information Security Strategy, which aims at strengthening trust and promoting creation of new business models. Strategic guidelines for automation and robotics as well as big data and My Data are being prepared.
Possibilities to open up rail transport market for competition will also be discussed during the meeting.
About Ministry of Transport and Communications Finland
The mission of transport policy is to ensure safe and smooth everyday travel, maintain the competitiveness of businesses and mitigate climate change by reducing emissions.
Finland's location far from the main traffic and logistics arteries of Central Europe poses major challenges to traffic policy. The needs of various demographic groups must be taken into consideration in the development of the transport system. Efficient and smooth public transport services support the achievement of transport policy objectives. Every effort is made to continuously improve traffic safety and the efficiency of the transport system by means of, for example, intelligent transport services