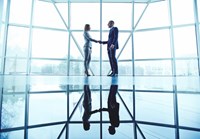 A new rail transport agreement between Finland and Russia will enter into force on 22 December 2016. Instruments of ratification concerning the agreement were exchanged in Moscow on 21 November 2016. The new agreement replaces the agreement, and its appendices, of 1997 on connecting railway transport.
The new agreement applies to direct international passenger and goods transport between Finland and Russia. Direct transport between the countries refers to passenger rail transport where no change of trains is required and to goods rail transport where the goods do not have to be loaded or unloaded for transfer at the rail stations on the border.
The agreement allows all rail transport undertakings located in Finland or elsewhere in the European Economic Area to operate in the Finnish rail network in rail transport services between Finland and Russia. It will not open up Russia's internal railway markets to undertakings operating in the EU, nor will it open Finnish markets to Russian railway operators.
The new agreement clarifies the rules of railway transport services and improves their efficiency. It regulates the terms, rights and obligations in transporting passengers and goods. It also regulates liabilities, such as the liability for damages, between transport operators.
It was ensured in the agreement negotiations that there will be no interruptions in the transport irrespective of any changes in the agreement. Older forms of waybills will be allowed for six months after the new agreement has entered into force. The loading rules comply to a great extent with the SMGS agreement of the cooperation organisation of railways of the Eeastern European and CIS countries.
Regulations on transport are included in the technical appendices of the agreement. Compliance with the regulations will be supervised by the Finnish Transport Safety Agency and the use of the rail network by the Finnish Transport Agency. The appendices will be available as of the beginning of December in the online service of the Transport Safety Agency www.trafi.fi.
Exemptions for special transport operations will be issued by the Finnish Transport Agency that will agree upon any arrangements necessary with the owners of the private railways.
About The Ministry of Transport and Communications Finland
The mission of transport policy and The Ministry is to ensure safe and smooth everyday travel, maintain the competitiveness of businesses and mitigate climate change by reducing emissions.
Finland's location far from the main traffic and logistics arteries of Central Europe poses major challenges to traffic policy. The needs of various demographic groups must be taken into consideration in the development of the transport system. Efficient and smooth public transport services support the achievement of transport policy objectives. Every effort is made to continuously improve traffic safety and the efficiency of the transport system by means of, for example, intelligent transport services