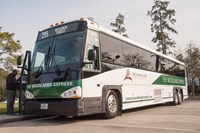 Motor Coach Industries ("MCI"), a subsidiary of New Flyer Industries Inc. (the "Company"), the largest bus and motor coach manufacturer and parts supplier in North America, is completing the delivery of 25 new clean-diesel Commuter Coaches to The Woodlands Township, Texas. The fast-growing suburb of Houston is recognized nationally as one of the most desirable places to live in the United States.
Located approximately 34 miles north of downtown Houston along Interstate 45, The Woodlands Township has put MCI's top-selling public transit coach into service for its popular park-and-ride service known as The Woodlands Express. Buses travel daily to Houston's major employment centers including the Texas Medical Center, Greenway Plaza, and Houston's central business district.
The first five MCI Commuter Coaches were delivered in December of 2015, followed by 10 more coaches in March 2106. The final 10 coaches will be delivered this month to complete an order valued at approximately $ 14.4 million.
The Woodlands Township funded the coaches through a competitive Congestion Mitigation and Air Quality (CMAQ) grant for the Federal Transit Administration (FTA) awarded through the Houston-Galveston Area Council, the regional Metropolitan Planning Organization.
"This is an opportunity to run brand new equipment with the latest clean-diesel engine technology to reduce emissions and relieve congestion," said Chris LaRue, Transit Program Manager for the Woodlands Township. "We also wanted to rebrand our fleet and provide the safest, most comfortable ride for our passengers, while reducing our overall operational expenses. The feedback we've been getting from our customers and drivers has been overwhelmingly positive."
The Woodlands Express, one of the most successful and sustainable commuter systems in the country, logged over 25 million passenger miles last year with each passenger traveling an average of about 37 miles one-way. "That's why we needed the ride to be exceptionally comfortable," said LaRue. "Our buses run at near capacity during the morning peak rush hour. Providing a comfortable commute keeps our ridership happy and growing."
The MCI Commuter Coach, based on the best-selling D-Series model, is the preferred vehicle on long-distance express routes because of its fuel efficiency, passenger comfort and safety at higher speeds. Safety technologies standard on the commuter coach include electronic stability control, fire suppression systems, three-point passenger seatbelts and an LED destination sign for improved visibility. The Woodlands Township order added optional lavatories, wheelchair lifts, comfortable Kiel seating with grab rails and arm rests, power outlets and Wi-Fi connectivity to each of their 55-seat coaches.
"These are the first coaches that we've actually owned," said LaRue. "In the past, we used the coaches supplied by our contractors, which gave us a mix of different coaches and many were coming to the end of their useful life. Now we have a more homogenous fleet with consistent quality on every coach. We have to be able to provide a uniformly comfortable, convenient and economical way to commute."
About Motor Coach Industries (MCI)
Motor Coach Industries is the largest transit bus and motor coach manufacturer and parts distributor in North America with fabrication, manufacturing, distribution and service centers in Canada and the United States and employs approximately 5,000 team members.
Through its Canadian and U.S. subsidiaries, Motor Coach Industries Limited and Motor Coach Industries, Inc., it is the leader in motor coaches in Canada and the U.S., offering the MCI® J4500, which is the industry's best-selling intercity coach for 11 consecutive years, and the MCI® D-Series, the industry's best-selling coach line in North American motor coach history. MCI is also the exclusive distributor of Setra® S 417 and S 407 in the United States and Canada. MCI actively supports over 28,000 motor coaches currently in service and offers 24-hour roadside assistance 365 days a year.
Through its Canadian and U.S. subsidiaries, New Flyer Industries Canada ULC and New Flyer of America Inc., it is North America's heavy-duty transit bus leader and offers the broadest transit bus product line (Xcelsior® and MiDi® models), incorporating the broadest range of drive systems available, including: clean diesel, natural gas, diesel-electric hybrid, electric-trolley and now battery-electric. New Flyer actively supports over 44,000 heavy-duty transit buses (New Flyer, NABI and Orion) currently in service.
Motor Coach Industries also operates North America's most comprehensive aftermarket parts organization providing support for all types of transit buses and motor coaches. All buses and coaches are supported by an industry-leading comprehensive warranty, service and support network.